Closure will allow community volunteers to take over following removal of paid staff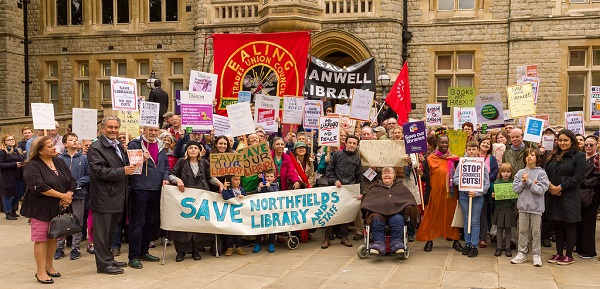 (Picture: Paul James, Hanwell Library Users Group)
Four libraries in the borough of Ealing are to close at least until next Spring after the Council decided to no longer staff them with paid employees.
They will shut this Saturday (21 December) to allow community volunteers to be trained up to run them. The libraries to close are Hanwell, Northfields, West Ealing and Perivale. A similar arrangement is understood to be shortly concluded for Pitshanger Library.
Ealing Council decided to remove paid staff from five of the borough's 13 libraries in July of this year following a public consultation. Six libraries are to remain under council management. Greenford and Wood End libraries will also move to being supported by the local communities, meaning that there will still be council staff at the libraries, with local volunteers helping with some running of services.
Councilor Jasbir Anand, cabinet member for business and community services, said: "Thank you to all of the community groups who have applied to step-up and manage their local library.
"This is a major step forward in making sure that Ealing libraries stay open. We know how important libraries are to our local communities. But with a 64% cut in our funding from central government, meaning we get 36p from every £1 we used to receive in 2010, we had to consider alternatives.
"It's essential that local communities support their fellow residents and groups as community involvement and volunteering is crucial to their plans and I know that the people leading these bids have some creative ideas for how to use the space in a way that benefits everyone."
Jenny Oldroyd, chair of trustees at Northfields Community Library said, "Northfields residents really value their library so we are thrilled to be able to keep it open for everyone, young and old.
She continued: "Over 100 volunteers have signed up and more than 200 people have shared their ideas - for book clubs, children's groups, evening opening hours and plenty more. We are hugely excited about making those ideas a reality."
Changes to library opening times
Opening hours for the remaining eight libraries are changing after the Christmas break and will re-open on 2 January.
Residents who would like to support their local libraries can contact the council by emailing libraryvolunteer@ealing.gov.uk.

December 20, 2019