Club will continue playing at Craven Cottage throughout two year renovation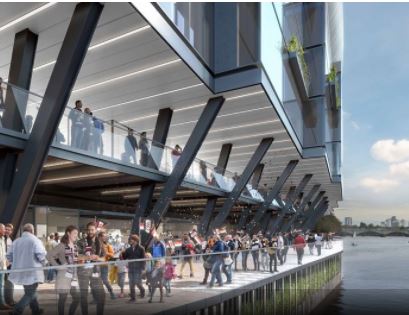 Fulham Football Club has confirmed to fans that work on the redevelopment of its riverside stand is set to begin in May.
The renovation is scheduled to start at the end of the current season, and the club hopes that the expansion of the 4,689-seater stand will be complete in time for the 2021/22 season.
The stand is is to be rebuilt with a two-tiered replacement, pictured here, which will see the stadium's capacity increase from 25,700 to close to 30,000.
While the £100 million works are underway, Fulham will continue playing at their Craven Cottage home at a reduced capacity.
Construction company Buckingham Group Contracting has been appointed to lead the process, working closely with architects Populous, on the new stand which will feature a new river wall and creation of a new public riverside walk.
The club has also announced that it will liaise with the Fulham Supporters' Trust (FST) in order to relocate fans whose seats will be affected by the demolition and subsequent temporary closure of the stand.
The trust's chair Tom Greatrex said: "The reiteration of work being scheduled to start at the end of the current season is a hugely positive step."
The planning application for the redevelopment was as follows:
Demolition of the Riverside Stand and partial reconfiguration of the Putney Stand (western end) and Hammersmith Stand (western end), and removal of four floodlight masts; and the development of a new Riverside Stand providing two tiers of seating (creating an overall seating capacity of up to 29,600); a new extended section of riverside walkway; basement; leisure/retail provision for A1, A3, A4, A5, D2 use classes; 9 serviced apartments (Use Class C1); parking; a new river wall; a temporary construction river platform and construction compound; and associated landscaping (including boundary work), lighting (including new and replacement floodlighting) and ground works and all ancillary or incidental works and structures.
It can be seen in full, along with supporting documents here.
January 11, 2019