Brook Green Market and Kitchen is your local Food Market open every Saturday from 10:00am to 15:00pm.
We are bringing new producers to the market so that you have lots more variety. We have now been trading for nearly 2 years and have some of the best Famers and Street Food that London has to offer but we are expanding and have a few new important traders that have started with us or are about to.

Perry Court Farm is the first and with them on board, we shall have the full range of fruit and veg available in season throughout the whole year. So they will bring along everything and importantly they will have everything that you can get in winter as well as summer. This will bring much needed variety at the market and will make it a one-stop shop when it comes to getting fruit and veg that is in season. Of late pickings have been very slim as we have only had one fruit and veg trader on board but this all about to change. You can also expect Tomatoes all year round. The farm itself produces a huge range of salad and vegetable crops, they don't use any fertilisers or crop sprays at all, relying on a traditional rotation system. They also produce their own range of healthy fruit crisps that count as part of your 5 a day. One thing you will also find is that they are also very competitive with their pricing. They will be starting with us on either the 19th or the 26th but it is all confirmed. Millets will also be back as soon as asparagus is in season.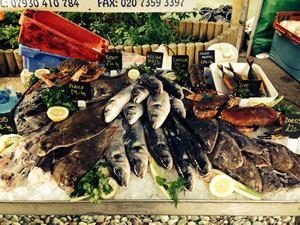 Secondly Channel Fish have already started with us, they actually sell the fish that they catch so you are buying direct from the fisherman, they also sell some organic farmed fish but only from sources they know and trust. Their Fish is less than 24 hours out of the sea, you can't get fresher fish and they are cheaper than most fishmongers. Look out for oysters that we will be shucked at the market available with a paired glass of wine.
Thirdly we also have Crunch joining us, who make their own delicious granola and Porridge. They currently trade at Brockley market where they have gone down a storm. So watch out for them over the next few weeks. And lastly don't forget that we already have great traders like Pastificio Mansi, The Olive Bar and Hook and Son just to name a few. Pastificio Mansi make the most delicious fresh artisan pasta, they have different fillings and different shapes every week and if they run out they'll make you some more on the spot. Hook and Son produce and sell raw milk, milk with all the goodness still in it.
Street Food wise we probably have the best Thai street food in town from Farang, authentic Neapolitan wood fired pizzas from Pizza Maria Street, Pink Cactus, bringing you the taste of Mexico with their divine tacos and tortillas and let's not forget the Muffin Man, who make the tastiest muffins about! They're absolutely finger licking good. And to wash it all down we have a cocktail bar, craft beers and wines that you can sip on while you listen to live music or play some board games.
There is plenty for the kids to do from ping-pong to climbing apparatus.
Sign up to our newsletter on our website www.brookgreenmarket.co.uk and be in with a chance to win £100 to spend at the market – get signing!
Follow us on Twitter @brookgreen_mk
See you at the market. Thanks
Brook Green Market and Kitchen
Addison Primary School, Addison Gardens, W14 0DT.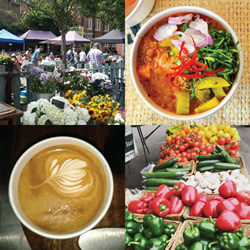 Advertisement