Girls from Brook Green's Sacred Heart High win top prizes at Bush Hall
Rudy's Theory, a band formed by students at Hammersmith's Sacred High School won the top prize at the Tri-borough Battle of the Bands competition held at Bush Hall in Shepherd's Bush on 25 January.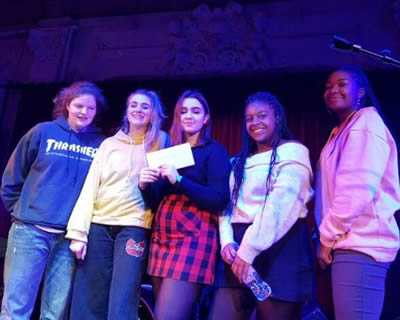 Rudy's Theory
Rudy's Theory were voted the night's grand winners, while the prize for Best Original Song was awarded fellow Sacred Heart students Pink Flamingo. Strike, from Hammersmith's West London Free School almost impressed the judges, being name Outstanding Musicians.
The other winners were Tiarnan from Chelsea Academy who won the Outstanding Vocalist category and Gabriel from Westminster Academy who won Star Performer.
The competition was presented by The Tri-borough Music Hub (TBMH) - a centralised Local Authority service in the Children's Services directorate which serves Hammersmith and Fulham, Kensington and Chelsea, and Westminster, in partnership with The Rhythm Studio.
The event aims to help support secondary school music education and to provide incredible life opportunities for talented musicians. Of the acts who auditioned, seven - all aged from 11 to 18 - were chosen for the finale:
Six:45, from Holland Park, Kensington Aldridge Academy & The Rhythm Studio
Gabriel, from Westminster Academy
Pink Flamingo, from Sacred Heart High School
Tiarnan, from Chelsea Academy & The Rhythm Studio
Strike, from West London Free School
Myla, from Holland Park & The Rhythm Studio
Rudy's Theory, from Sacred Heart High School
There also was a guest performance from last year's winner, Ezria Rolfe.
They performed to a sell-out crowd and a celebrity judging panel which featured Cerys Matthews (BBC broadcaster and Catatonia), Will Doyle (Palma Violets), Paul Stewart (The Feeling) and Steve Abbott (artist management - Lang Lang, Decca etc).
The judges said they were blown away by the quality and high standard of all the acts and praised their teachers and schools for producing such professional-level artists.
You can see more pictures of the bands and their supporters at Bush Hall here.
Established in August 2012, the Tri-borough Music Hub is a centralised Local Authority service which receives core funding from the Department for Education via Arts Council England. It is the lead organisation that oversees the delivery of music education in the Royal Borough of Kensington and Chelsea; the London Borough of Hammersmith and Fulham; and City of Westminster working with schools, pupils and music teachers.
The hub supports all styles of music from contemporary to classical and is focused on offering children and young people incredible life opportunities through music and the arts. The Battle of the Bands event is just one of the many different activities it provides over every year. For more information about the Music Hub follow the Twitter account @TBMHmusic.
January 25, 2017