Latest accolade for former home of the BBC in Wood Lane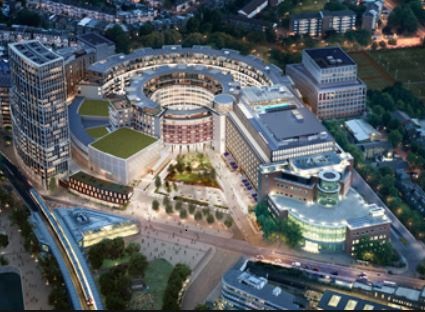 Television Centre, the former home of the BBC has joined some of the UK's top buildings to become a winner of the 2019 RIBA - National Award and the 2019 RIBA London Award for architecture.
The RIBA awards acknowledge the best new construction projects of today, with the list of nominated buildings spanning the breadth of the UK.
The awards highlight the talented nature of contemporary UK architecture, with each of the 54 winners showcasing their ability to meet sustainable development and environmental requirements to a high standard.
Television Centre has been recognised for its architectural reinvention of the London landmark into a thriving community.
The London based building has adapted to design trends by adding a modern twist to its original design, which was produced by architect Graham Dawbarn in 1949.
This is the latest accolade for the iconic Wood Lane building. Earlier this year, Television Centre was also chosen by industry leaders as joint winner of 'Development of the Year' at the 2019 RESI awards. The RESI Awards, organised by Property Week, celebrate the residential property sector and its successes of the past year.
The awards bring together the key players in the residential market including leading developers, landlords, house builders, operators, investors, agencies and local authorities.
In May, 2 TVC, new offices at Television Centre that are home to Publics Group, The White Company and soon to open Soho Works, also scooped the Best Commercial Workplace award by the British Council of Offices (BCO). The BCO Awards programme recognises the highest quality developments in the UK and sets the standard for excellence in the regional and national office sector.
Judges were impressed with the collaboration demonstrated throughout the project that has allowed the creation of a new television centre between two historic studio buildings. The site now serves as both a part of the residential offering and the new BBC offices.
The BCO judges felt the architecture of the exterior reflected the site's history, while the interior delivered a flexible and sustainable space, fit for a modern workforce.