Photography project running alongside new series of plays This Place We Know
The Bush Theatre is asking residents of Shepherd's Bush to show they are proud to be W12 by submitting their photos of local faces and places for its new exhibition, WeareW12.
WeAreW12 is a free photography exhibition and a celebration of Shepherd's Bush, created by photographer Eileen Perrier and the people of Shepherd's Bush.
Submit your pictures and they could be exhibited on the new living gallery, which will pop up on the walls of the Bush Theatre during September and October.
Local people can submit their pictures through a form on the Bush Theatre's website, or on Instagram or Twitter using #WeAreW12.
WeAreW12 is part of This Place We Know,a series of six, short plays which will be performed from September 26 in borrowed spaces along the Uxbridge road and inspired by Shepherd's Bush and the local community.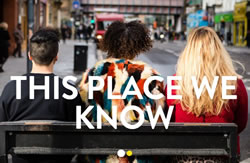 In the first week, from September 26, Danny Ashok and Anjli Mohindra will star in Gbolahan Obisesan's play Zaida and Aadam at the Nubian Life Resource Centre whilst Nancy Harris' One Cold Dark Night will be performed by Kate Maravan at the Defector's Weld pub.
During the second week of the programme, The Rest of Your Life by Barney Norris and Terrorism by Kenny Emson will both open. The Rest of Your Life takes up residency at local karaoke haunt Bar FM with Waj Ali playing Nick and Rakie Ayola in the role of Hannah.
Simultaneously Terrorism will play at Room 56, in the Dorsett Hotel - the old Shepherd's Bush Palladium and a former cinema - with Trevor White and Eleanor Matsuura.
The final week will see Agni Scott and Jeany Spark bring Battleface by Sabrina Mahfouz to St Stephen's CE Primary School and Paola Dionisotti will perform April De Angelis's Nobody's Listening at the neighbouring St Stephen's Church.
Find out more at the Bush Theatre's website.
This Place We Know is taking place in borrowed spaces while the Bush Theatre is undergoing a major upgrade. It is scheduled to reopen early in 2017.
Find out more about the theatre's plans here.
September 19, 2016