Party on Saturday kicks off extended housewarming on Uxbridge Road
The Bush Theatre reopened on Saturday 18 March after a year long £4.3m revamp, with the local community crowding in to enjoy the party atmosphere, with champagne, music from the London Community Gospel Choir and Ashley Abigo, speeches and tours of the building.
There was unanimous approval from the crowds for the new fully accessible theatre and outdoor terrace, upgraded bar and library and newly created studio in addition to the main theatre.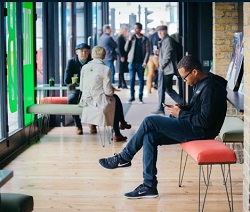 Behind the scenes, visitors were shown new rehearsal space, dressing rooms and attic space including a dedicated writer's room.
The Bush says the extra space, created by architects Haworth Tompkins, will together allow over 50% more produced, co-produced and commissioned productions.
The Library Bar (with free wifi) is now open as usual for people chill or hang out with normal opening times from 10am-11pm from Monday till Saturday.
The theatre is also hosting a week-long celebration called Making Space, which aims to reflect the Bush's wider ambition for the future. The extended housewarming includes Black Lives, Black Words, a series of short plays running from 23 - 25 March, part of an international project, musing on the question: "Do black lives matter today?" plus music, poetry, spoken word, a reading group and talks.
Artistic Director Madani Younis said: "Following this landmark capital project, we couldn't be more excited to re-open our building to the world. We're looking forward to welcoming audiences old and new to this incredible space.
"It was important to me that we re-open with a week of celebrations that embrace the diversity of the world we live in. Black Lives, Black Words is a bold statement about one of the most important movements of our time: #BlackLivesMatter."

You can find full details of the week's events here.

It will be followed by:
Guards at the Taj (7 April – 20 May) by Pulitzer Prize finalist Rajiv Joseph, will receive its European premiere directed by Jamie Lloyd, who makes his Bush directorial debut. The production won the Obie Award for Best New American Play and the Lucille Lortel Award for Outstanding Play when it premiered at the Atlantic Theater in New York.
This will be followed by the European premiere of Hir (15 June – 22 July) by Taylor Mac, an artist and writer whose performance launched this year's LIFT Festival and whose recent 24-Decade History of Popular Music put him at the forefront of alternative responses to American culture. The production will be directed by Nadia Fall, who returns to the Bush following the acclaimed Disgraced.
Then in the autumn, the Bush Theatre commission Of Kith and Kin (18 October – 25 November) by Chris Thompson, last at the Bush with Albion, will be presented in co-production with Sheffield Theatres and directed by Sheffield Theatres' new Artistic Director Robert Hastie.
Alongside this, the Bush is announcing the first season of work in its new space, the Studio. This 70-seat theatre will serve to increase the artistic output of the Bush Theatre, and provide a new generation of emerging writers and artists with a flexible, intimate space to create and showcase the best in new writing.
The first season will feature three world premieres. Up in Arms duo, writer Barney Norris and director Alice Hamilton, collaborate once again after the success of Visitors and Eventide with Norris' new play While We're Here (26 April – 27 May). This is a co-production between the Bush Theatre, Up in Arms and Farnham Maltings.
Nassim Soleimanpour returns to the Bush with new play Nassim (24 – 29 July) following his globally acclaimed White Rabbit Red Rabbit, which has been translated into 15 different languages and performed over 200 times by artists including Sinead Cusack, Ken Loach and Whoopi Goldberg. Directed by Bush Associate Director Omar Elerian, Nassim will feature the playwright himself.
Sophie Wu (Kick Ass, Fresh Meat) will be the first graduate of the Bush's Emerging Writers' Group, which launched in 2015, to have a full commission produced at the Bush, with the premiere of Ramona Tells Jim (18 September – 21 October).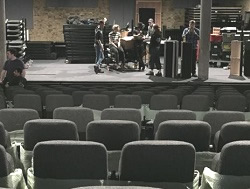 The Bush has also launched a new talent development strategy designed to revolutionise the diversity and quality of artists and artistic leadership in the UK. From 2017, a new cohort of artists will become part of the fabric of the Bush.
This includes three Associate Artists on attachment to the Studio: Milk Presents, Deafinitely Theatre and ANTLER. They will work alongside three Project 2036 practitioners - a programme that will offer a Black, Asian, Minority Ethnic and Refugee (BAMER) playwright, director and producer a £10,000 bursary each year.

Supported by the Leverhulme Trust, the first intake of artists is: Alison Holder (Producer), Rikki Henry (Director) and Hannah Khalil (Playwright). These artists join the previously announced Emerging Writers' Group (EWG).
March 17, 2017