Cafe closure for non-payment of rent comes despite chairman's £20 million rescue plan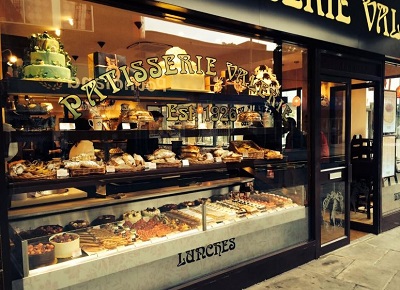 The Hammersmith branch of Patisserie Valerie in Kings Mall has become one of the first casualties of the financial scandal which brought the chain to the brink of collapse.
The store, on King Street, was abruptly closed on Friday, 12 October, and a notice of forfeiture posted on the front door.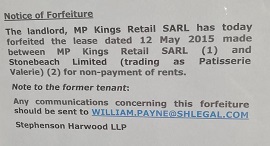 The notice says that the landlord MP Kings Retail SARL has forfeited the lease for non-payment of rent.
The closure comes despite a rescue plan announced yesterday by entrepreneur Luke Johnson, who is chairman of Patisserie Valerie and its largest shareholder with a 37% stake.
He pledged to inject up to £20 million to keep the chain's parent company, Patisserie Holdings, from being wound-up.
The company said it also plans to raise as much as £15 million through the issue of new shares after confirming it has net debt of approximately £9.8 million.
The £15 million will be used to pay back around half the money loaned by Mr Johnson, as well as to meet outstanding liabilities including the £1.14 million bill owed to HM Revenue & Customs.
In a statement issued to the market on Friday afternoon, Patisserie Holdings said the loans would enable it to continue trading for the "for seeable future".
At the same time as this statement, cafes in Hammersmith and Edgware Road abruptly closed their doors.
However as of Saturday, other London branches, including Turnham Green and Westfield in Shepherd's Bush, are still open.
The company named in the forfeiture notice is Stonebeach Ltd (trading as Patisserie Valerie). Earlier this week Patisserie Valerie warned its investors that Stonebeach, its principal trading subsidiary, faced a winding up petition from HMRC over £1.14m in unpaid tax.
HMRC says that Stonebeach owes it £1.14 million, and has set a hearing date of 31 October to seek a court order to liquidate the firm and its assets. In response, it said it and its advisors were in communication with HMRC with the objective of addressing the petition.
The cafe closures are the latest development in an astonishing saga which has led to the company's suspended finance chief Chris Marsh being arrested by police on Thursdays just days after the company admitted it had uncovered "significant, and potentially fraudulent, accounting irregularities."
These irregularities amount to a black hole in the company's finances, which is reported to be as much as £2 million.
The situation first came to light earlier this week when, after suspending its finance director, the firm asked for its shares be suspended from trading on the London Stock Exchange's junior AIM market while it carried out a full investigation into its true financial position.
Chairman Luke Johnson said: " "We are all deeply concerned about this news and the potential impact on the business. We are determined to understand the full details of what has happened and will communicate these to investors and stakeholders as soon as possible."
In a statement made on Thursday 11 October, Patisserie Valerie that over the past 24 hours it had "undertaken further investigation into the financial status of the company".
The board found "a material shortfall between the reported financial status and the current financial status of the business".
"Without an immediate injection of capital, the directors are of the view that that is no scope for the business to continue trading in its current form," it continued.

The company said its "professional advisers are assessing all options available to the business to keep it trading and will update the market in due course".
Hertfordshire Police confirmed the arrest of Chris Marsh, saying, " A 44-year-old man from St Albans has been arrested on suspicion of fraud by false representation. He has been released under investigation."
Patisserie Valerie said today: " The company has been made aware that Chris Marsh, who is currently suspended from his role as company finance director, was arrested by the police last night and has been released on bail. Further updates will be released in due course as appropriate".
The first Patisserie Valerie café was opened on Soho's Frith Street in 1926 by Belgian-born Madame Valerie. It was destroyed in World War II and a new site opened at nearby Old Compton Street.
Now it has 206 cafes across the country, employing around 2,000 staff.
October 12, 2018