Council agrees to £236,000 project adding ivy screens, planters and cycle hub
Work is set to begin this autum improving the area beneath the Hammersmith Flyover with the addition of new green screens, planting, bicycle hub and electric charging points.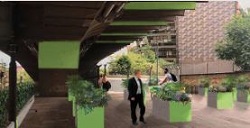 H&F Council's cabinet agreed on Monday 8 October to spend up to £236,000 on the project, which aims to make the space more pleasant, while also improving air quality by also reducing pollution.
The improvements, as shown in the drawing below, stretch from St Paul's School garden in the west to Talgarth Road in the east, and include ivy green screens to protect pedestrians and cyclists from traffic pollution and planters containing plants chosen to help reduce pollutants.

Improvements will also be made to St. Paul's Primary School garden, with new grass and soft planting to encourage wildlife.
A cycle hub at the junction of Talgarth Road and Fulham Palace Road will increase cycle parking
capacity and reduce clutter, and plans to spend £20,000 painting the flyover columns and walls along Talgarth Road are being investigated with Transport for London.
The cabinet agreed the funding will be spent according to the following approximate costs:

£50k – Ivy screens along guard rails
£50k – Planters with varied species
£85k – Cyclehub implementation
£30k – St. Paul's School Garden
£20k – Painting/artwork
£196,000 of this total has been secured by Hammersmith's BID, HammersmithLondon, from
the Mayor of London's Air Quality Fund (MAQF) and H&F Council is funding the remaining £40,000.
The cabinet agreed to order the work from its contractors, FM Conway.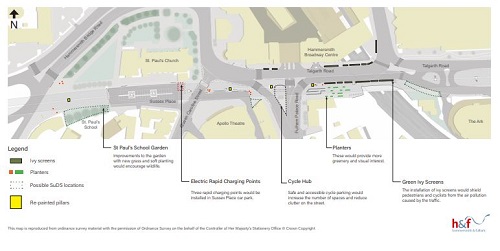 You can see a larger version of this drawing here .
October 12, 2018