Charity fundraiser brings in over three thousand pounds for the Upper Room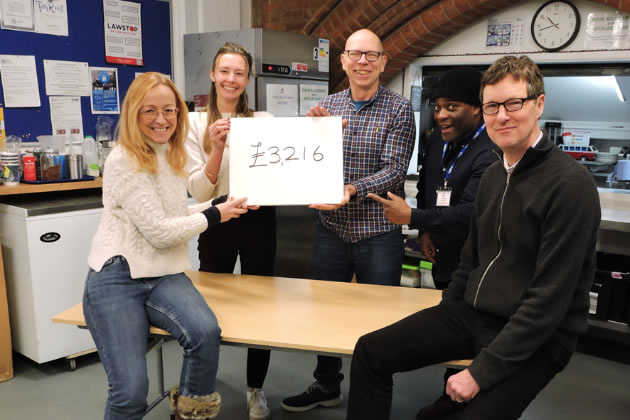 Picture: Artists At Home
December 22, 2022
The annual charity auction held by West London group Artists at Home has raised £3,216 for The Upper Room.
Members of the group donatied works of art and crafts which were bid for in an online auction.
There's was a wide range of lots including paintings, prints, jewellery, ceramics, and accessories. And starting bids were well below the artists' usual prices.
Kathryn Davey, Chair of Artists At Home said, "Artists at Home are delighted to be able to support the Upper Room this winter. It's such a challenging time for so many people, and the Upper Room are currently feeding around 120 people each day, their busiest time ever. Thank you to all our amazing artists, supporters and bidders for their incredible generosity in enabling us to raise money for such an exceptional charity this year."
John Horton, Director of Horton and Garton, Chiswick, sponsors of Artists At Home commented, "We are proud to have sponsored the latest Artists at Home Charity Auction raising an incredible £3,216 in aid of The Upper Room. Thank you to all the bidders who took part and artists for their generous contribution. It was once again a very successful event. The Upper Room is an inspiring charity who go above and beyond to help those in need in our community and wholeheartedly deserve this donation and our support."
Iain Cooper, Interim CEO, The Upper Room added, "We are extremely grateful to and humbled by the extraordinary efforts Artists at Home have gone to in raising this amazing amount of money for The Upper Room. From the creativity involved in producing such exquisite works, to the generosity of thought towards people undergoing particular hardship right now, through to the bidders being as enchanted as we were with the pieces, it has been an outstanding effort. I am sure their new artworks will look great in their homes. This amount of money enables our amazing team of staff and volunteers to keep people warm and fed at a very difficult time for them"

To find out more about the valuable work of The Upper Room and make a donation, visit its website.
Artists at Home open weekend takes place from 16-18 June 2023 visit www.artistsathome.co.uk for more details.

This page is sponsored by Rocks Lane who support community initiatives in Chiswick.