Rare bright spot during miserable night for the Labour party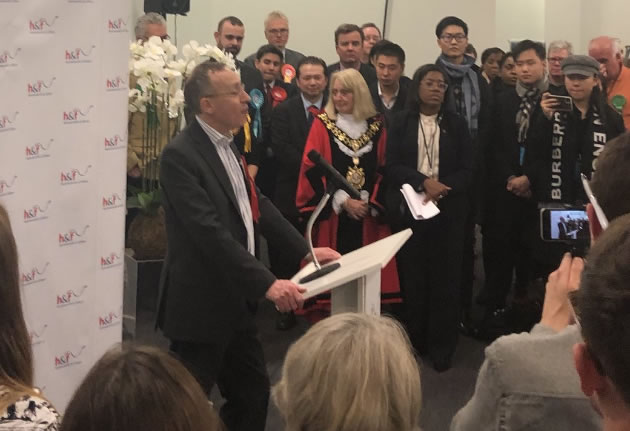 Andy Slaughter making his acceptance speech
Labour candidate Andy Slaughter has retained his seat in Hammersmith in an otherwise miserable night for his party.
He received over 30,000 votes or 57.9% of the total a 6 percentage point fall in his share and a slight fall in his overall majority.
The Conservative candidate Xingang Wang also saw a fall in vote share down by 4.5 percentage points. The biggest gainers were Jesse Venegas for the Liberal Democrats and Alex Horn for the Green Party.
The total number of electors eligible to vote was 74,759 and the turnout was 69.76%.
The Labour politician won three previous General Elections, in 2010 when the new constituency of Hammersmith was created, in 2015 and in 2017 when he received 33,475 votes - over 9,000 more than the previous election - and a majority of 18,751.
He had previously been MP for Ealing, Acton and Shepherd's Bush from 2005 to 2010 and before that, Leader of the Hammersmith and Fulham Council.
The total number of electorates eligible to vote was TBC and the turnout was TBC.
Constituency of Hammersmith - General Election 2019

| Candidate | Party | Number of votes | Percentage share |
| --- | --- | --- | --- |
| Andy Slaughter | Labour Party | 30,074 | 57.9 |
| Xingang Wang | Conservative Party | 12,227 | 23.5 |
| Jessie Venegas | Liberal Democrat | 6,947 | 13.4 |
| Alex Horn | Green Party | 1,744 | 3.4 |
| James Andrew Keyse | Brexit Party | 974 | 1.9 |
December 13, 2019