HF ArtsFest is Back for Fourth Year from Saturday 3 June
---
Annual summer festival now a highlight of our local cultural calendar
Hammersmith and Fulham's own arts festival, H F ArtsFest is back from Saturday 3 till Sunday 11 June.
Now in its fourth year, HF ArtsFest has become an unmissable annual event in our local cultural calendar.
With an array of engaging, multi-disciplinary arts, there is something for everyone and many events are absolutely free.

High profile events during the ArtsFest include the new Comedy Festival at the Bush Theatre,
Bushstock Festival at Bush Hall and Fulham Symphony Orchestra performing in Lyric Square.

Working in partnership with our borough's world class arts venues, it also provides a unique opportunity for local
artists to showcase their work and to benefit from performing and working with professional venues.
The programme includes visual art exhibitions, theatre, comedy, circus, music, dance, play readings, physical
theatre performances and interactive workshops.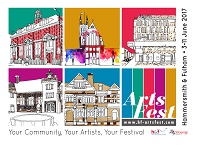 This year's HF ArtsFest includes some exciting new community projects with professional artists working with local residents who will present dance, photography and play readings in venues across Hammersmith and Fulham.

Highlights include

Arts & Entertainment – Sunday 4 June: free inter-cultural event at the Town Hall from 2pm - 6pm to celebrate local community arts activities from music, dance, theatre and poetry.

Unity Day Celebrations - Sunday 11th June: a Free event in collaboration with the Council, in
Ravenscourt Park from midday - 4pm with music, dance, theatre and circus! With over 6,000
residents attending last year's event, this year promises to be even bigger and better!

Taking Arts to the People (TAP) project - Watch out for the HF ArtsFest Bus offering pop-up performances around the borough, including an inaugural parade on Saturday 3 June.
You can view the full programme on the HF ArtsFest website.
May 12, 2017