Local people now asked to make further comments before 27 March deadline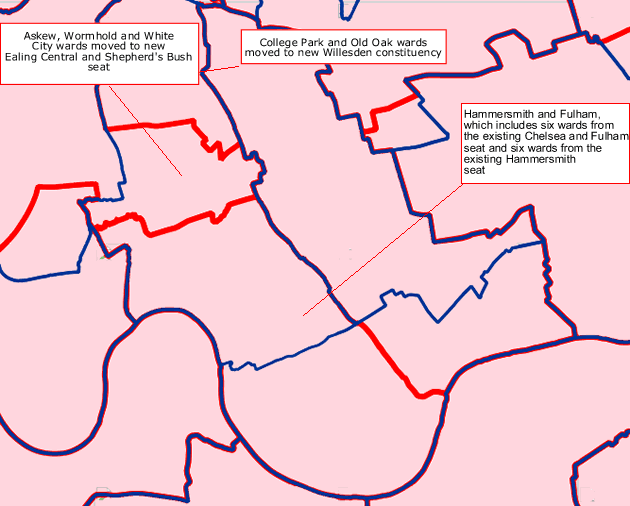 Current boundaries in blue. Proposed boundaries in red.
A public consultation on controversial plans to change constituency boundaries in Hammersmith and Fulham has received hundreds of comments from members of the public, councillors and local organisations.
As we reported last September, under proposed changes in the 2018 review, revealed by the Boundary Commission, Hammersmith and Fulham would be reunited as one constituency - but wards in Shepherd's Bush would not be included and instead would become part of two separate constituencies.

In the south of our borough, the current Chelsea and Fulham constituency, created in the last Boundary Commission review in 2010, would disappear. It has been one of the safest Tory seats in the country, with MP Greg Hands retaining his seat throughout.
In the north of the borough, the separate constituency of Hammersmith, which is held by Labour MP Andy Slaughter would disappear and three wards – Askew, Wormholt and White City and Shepherd's Bush Green – would be removed and included in a new constituency called Ealing Central and Shepherd's Bush, along with six wards from Ealing borough. This would replace the current Ealing Central and Acton constituency.
A fourth ward in Shepherd's Bush, College Park and Old Oak - also currently within the Hammersmith constituency - would become part of a new Willesden constituency.
The new 12 ward constituency of Hammersmith and Fulham would have a very different mix of voters, as it would lose traditional Labour voting wards in Shepherd's Bush and gain solidly Tory wards in Fulham. Perhaps predictably, many of the responses were split along party and geographic lines, with local Conservative politicians and voters supporting the proposals and Labour members and supporters calling them 'gerrymandering' and 'arbitrary and ill-judged'.
While proposals to reconnect Fulham to Hammersmith rather than Chelsea were popular, receiving almost unanimous approval from 71 respondents in the Chelsea and Fulham constituency, proposals to disconnect Shepherd's Bush from Hammersmith were much more controversial among 187 respondents in the current Hammersmith constituency.
The strongest responses were from residents of Shepherd's Bush, including The Friends of Wormwood Scrubs and members of the Brickfield Area Residents Association, who live in the an South Eastern tip of the College Park and Old Oak ward.
Many spoke of long held ties to the Hammersmith community and said they felt little connection to Ealing, Acton or Willesden. Many also offered support for an alternative proposal put forward by MP Andy Slaughter which proposes keeping both the Chelsea and Fulham constituency and the current Hammersmith constituency, which would be expanded to include Fulham Broadway. You can read more about his proposals here.
The planned shake-up of constituencies aims to reduce the number of UK seats from 650 to 600 and as part of the consultation process, the Boundary Commission for England accepted comments for 12 weeks at the end of last year. Now it has published all 18,753 comments received from across the country and is inviting comments to the submissions, as well as responses to any counter proposals which have been submitted. Comments can be made on the consultation website until the deadline on 27 March 27.
Following the second consultation, the BCE's assistant commissioners will look through all comments received during both consultations, considering all the evidence submitted. They will then advise the Commission on where they think the proposals should be revised.
Revised proposals will be published as part of a final consultation in late 2017/early 2018 and any further changes made based on comments received. BCE must report to Parliament with its final recommendation in September 2018. If agreed by Parliament, the new constituencies will be in use at the next scheduled General Election in 2020.
Sam Hartley, Secretary to the Boundary Commission for England, said: " Comments made during both consultations will help us develop a well-rounded picture of how local communities live and work together across the country. This local knowledge will be essential when we revise our proposals. Any changes will be based on your comments so it's important to have your say."
March 2, 2017