Recognising his hard work supporting two H&F diabetes groups
Peter Gilbert, a volunteer who has supported people with diabetes across Hammersmith and Fulham has been been nominated for an award from leading charity Diabetes UK.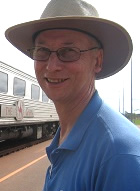 Peter who lives in Fulham, has been nominated in recognition of his hard work, for a Supporting Others Inspire Award.
The regional final of the awards will be held in central London at the end of the month.
Roz Rosenblatt, head of London Region at Diabetes UK said: "Peter has given so much time to supporting not just one but two local groups, the Hammersmith Diabetes UK group and the Fulham Diabetes UK local group.
" Both groups meet monthly and provide a supportive environment as well as information and talks from experts in the field of diabetes.

"Both groups are still developing and working to attract new members. Local people living with diabetes are able to get more information about their condition to improve management and their experience, as well as to meet with other people living with diabetes.
"This would not be possible without Peter's commitment to the groups. He has been a sustaining force, and is always looking to accomplish more and grow both groups.
"Peter is a dedicated individual who takes on committee roles for both groups to ensure they continue operating and providing support.
"Through our Inspire Awards we thank our hard working volunteers, like Peter, for their contributions and highlight the positive difference their work has made to the lives of people who are living with diabetes."
The Inspire Awards recognise and celebrate outstanding individuals as well as group volunteer efforts. The winners are chosen by judging panels across the UK and will be presented with their award at the Make a Difference awards on Saturday, March 25 in central London.
The winners of these awards will then be placed in a pool to be judged for the UK-wide Inspire Awards which will be presented in summer.
The Hammersmith group meets on the second Wednesday afternoon in the month from 1.30pm for 2pm at White City Community Centre. There are no meetings in the holiday months of April, July, August or December.
The Fulham group meets on the second Monday of each month from 6pm to 8pm. The meeting place is the NHS Walk-In Centre on Parsons Green.
You can find out more about these groups and how to contact them on the Central West London Healthwatch website.

You can also find out more about becoming a volunteer for Diabetes UK, or joining a local support group, by emailing volunteering@diabetes.org.uk or calling 0345 123 2399.
March 17, 2017