Three points available now with four more coming on April 6
The first batch of electric vehicle charging points in the streets of Hammersmith and Fulham have gone live, with the council declaring it is seeking to transform the borough and drive down harmful emissions.
Three of the first phase of new, on-street charging points are now available for residents to use in Standish Road, Hammersmith, Gayford Road, Shepherd's Bush and Farm Lane, Fulham. The remaining first phase bays will be coming online shortly.
Each charging location has two bays where plug-in hybrids and fully electric vehicles can park while recharging their batteries.
" We are committed to improving air quality and driving-down harmful emissions in H&F by leading the charge in availability of charging bays for low and zero emission vehicles," says Cllr Stephen Cowan, Leader of Hammersmith & Fulham Council, seen here by the point in Standish Road.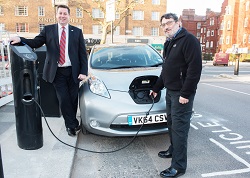 The council says as more residents take up electric vehicle use, these first few bays are just the beginning and it promises to continue to look for areas where residents say there is need and investigate opportunities to expand the network.
" More residents using electric cars will help to reduce CO2, NOx and particulate matter emissions that have detrimental effects on health and the environment.
" We are determined to become the greenest, most environmentally-friendly council in the country."
The remaining four sites are due to go live on Wednesday 6 April and will be marked with an official launch by Source London, who own and operate the network on behalf of H&F.
A further 12 charging locations are being prepared for August, creating a total of 40 new on-street parking bays, in addition to the 40 charging bays in the car park of the Westfield shopping centre.
The council says this total of 80 parking bays means by 2017 residents will have access to, on average, a charging point for every square kilometre of the borough.

The EV charging points will be part of the Source London Network which will own and maintain them.
Residents can simply subscribe to the scheme online and then use the network's charging points anywhere in London.
Ownership of electric vehicles has tripled year on year and following demand from residents, even more bays will be built over the next 12 months.
The bays can only be used by those charging electric vehicles and will be enforced to prevent misuse.
March 18, 2016