Our annual fireworks displays are back in Fulham's Bishops Park on Friday 2 November and Hammersmith's Ravenscourt Park on Saturday 3 November.
More than 20,000 people are expected to enjoy the display, run by H&F Council, which this year has the theme H&F Loves Fireworks, with a soundtrack of some of the greatest love songs ever recorded.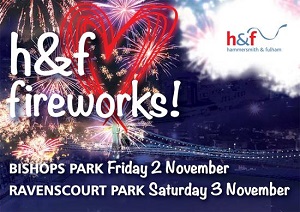 There will be a funfair, food stalls and new bars serving up a wider selection of drinks than ever before. And for the first time, there will be no need to go looking for a cashpoint as you will be able to pay by card at the bar, food stalls and ticket box office.
The gates open at 6pm at both events and the children's fireworks will take place at 7.15pm.
The celebrations will culminate with a firework display choreographed to music at 8pm. The event finishes at 9.30pm.
H&F Council says it has frozen prices once again, making these fireworks display one of the cheapest in London. Earlybird tickets, available until 21 October are just £6 each – a 25% discount over tickets bought later.
Advance tickets, available from 22 October till 3 November) cost £8 each. The council says Limited tickets will be available to buy on the night, but the best way to guarantee entry and avoid the queue for the box office is to buy your tickets in advance.
Book your tickets for Bishop's Park on November 2 here.
Book your tickets for Ravenscourt Park on November 3 here,

Once a ticket is purchased via Ticketmaster, a QR coded ticket will be sent to you, which will then be scanned at the gate for quick entry on the nights.
Admission is free for children under five, and also for Disabled spectators and their helper.
Access points for wheelchair users:
Bishops Park – in Stevenage Road, Fulham, between the junction of Finlay Street and Ellerby Street (next to Craven Cottage).
Ravenscourt Park – by the middle gate in Ravenscourt Park (the road), Hammersmith, on the junction of Ravenscourt Gardens.
For more details, visit
here
.
There will be no entry after 8pm so please arrive early to avoid queues.
Pre-booked tickets must be picked up from the Lyric Theatre box office (or posted if you purchase early enough). There is no ticket collection point at the event gates.
Tickets are also available on the day at the gate for £8. Entry for children under five is free.
Please remember to arrive at the parks early, as security checks will take place at all gates including body and bag searches.
There are reserved places for disabled spectators in both parks. No admission fee is charged for the disabled spectators or their helpers.
Access points for wheelchair users
Bishops Park – by the Craven Cottage gate in Stevenage Road, Fulham SW6 6HH
Ravenscourt Park – by the middle gate in Ravenscourt Park, Hammersmith W6 0TY