Funds raised by Coronavirus Response Appeal are helping the most vulnerable residents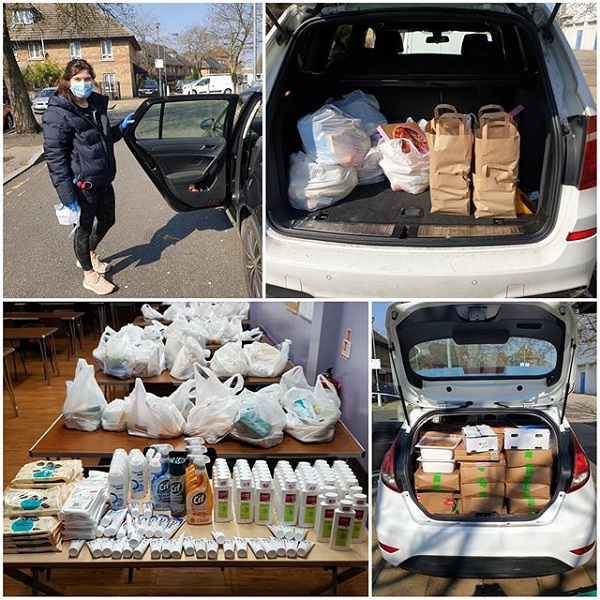 The work of The Smile Brigade delivering meals to vulnerable residents
Hammersmith & Fulham Council and local charity UNITED in Hammersmith & Fulham have awarded grants worth a total of £20,000 to 21 community groups.
The funding was announced this week in two tranches. The first saw over £12,000 to 13 community groups helping support residents during the coronavirus outbreak.
Savraj Kaur, Programme Development Manager at UNITED in H&F, said: "We're delighted to have begun giving the first tranche of awards to those helping the most vulnerable in the quickest way possible. We continue to welcome grant applications – in particular from grassroots organisations."
Together, this funding will work to improve the lives of an estimated 4,434 people at risk and living in Hammersmith & Fulham.
The following organisations have received some of the £12,650 awarded by H&F Council and UNITED:
BHCAC - £1,000
Person-centred and advocacy charity providing services over the phone for older people who speak English-Bosnian-Serbo-Croat languages, during the pandemic.
Bishop Creighton House - £1,000
BCH is currently responding to a spike in demand and referrals, including for food parcels and collecting prescriptions for older people, as well as making daily phone calls to its network.
Citizens Advice H&F - £1,000
Funding will help provide new laptops to enable more volunteers in working remotely to help with dvice on benefits, debt, housing and employment rights.
For Brian CIC - £1,000
Funding will help the social enterprise create a 'buddy system' for those with dementia and ensure they're protected during isolation.
Let's Unite for Autism - £1,000
Supporting parent/carers of those with special needs children who need additional help and support 'home-schooling' while local schools are closed.
Outside Edge - £1,000
The theatre company in Parsons Green will use the funding to bolster its support for residents affected by addiction through its use of drama. The group works to prevent relapse and ontinue to foster a new virtual sense of community.
River House Trust - £1,000
The trust offers activities and peer support for older people with HIV, many of whom are immuno-compromised, in poverty and isolation, and with a wide range of other underlying health conditions.
Solidarity Sports - £1,000
The sports charity provides tailored care packages for parents in poverty, struggling and in need of a high level of emotional and practical support.
The Smile Brigade - £1,000
During the coronavirus outbreak, the non-profit group is cooking and delivering 400 free meals o vulnerable residents, as well as packing and providing essential care packages.
This New Ground - £1,000
Creatively enable the learning-Disabled community to connect through remote activities and virtual platforms when isolated.
Bubble & Squeak - £950
Funding will help them adapt a food stall structure (pay-as-you-feel) for those living in food deprivation, to delivering healthy produce packages locally.
St Andrews Fulham Fields - £900
Funding will allow the established homeless project to continue to offer food, including essential care items to vulnerable residents.
Dance West - £800
Funding will go towards producing 'Dance West Digital' tutorials and bite-sized classes for adults 55+ and families with children under the age of 5 years to stay active in isolation.
As the community pulls together to fight the coronavirus, eight more local groups have been awarded grants to help them respond to urgent need.
An additional £7,800 has been paid by Hammersmith & Fulham Council and the charity UNITED in Hammersmith & Fulham in a second batch of funding to community bodies on the frontline of supporting residents.
The grant aid will directly help nearly 13,000 of the neediest people during the current lockdown.
Among the groups assisted is the Masbro Elders Project. Coordinator Tina Wood said: "At such a difficult and frightening time for many of our elders, we are very grateful for this grant, to support and assist those in urgent need."
The following organisations have received new grants from H&F Council and UNITED:
Carers Network - £1,000
Virtual meet-ups for unpaid carers unable to attend support groups.
H&F Mencap - £1,000
Help for disabled adults and children no longer receiving usual support.

People Arise Now - £800
Essential groceries, with the focus on the families of ex-offenders.
St Albans Fulham - £1,000
Aiding young people via weekly remote youth clubs.
St Etherelda's Fulham - £1,000
Delivering groceries to Fulham area residents who are isolating.
St Peter's Fulham - £1,000
Supporting the Love Your Neighbour scheme for the ill and vulnerable.
The Upper Room - £1,000
Language services, and homeless support.
UPG Masbro Elders Project - £1,000
Shopping and food delivery to vulnerable older people.
"We're truly grateful to see these local groups step up to help local people in these unprecedented times," said Cllr Sue Fennimore, Deputy Leader at H&F Council. "We hope this funding is the start of some great work that is desperately needed during the pandemic and is something that residents can continue to support."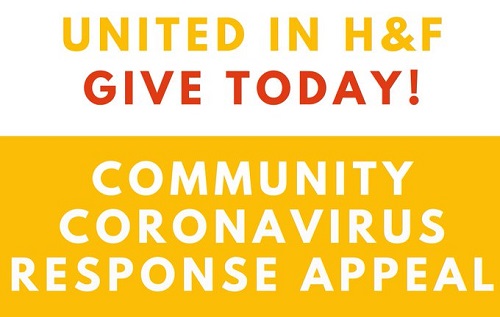 UNITED in Hammersmith & Fulham Charity launched the Community Coronavirus (Covid-19) Response Appeal to enable local individuals, businesses and foundations across the borough to support local response.
The Appeal is in partnership with Hammersmith & Fulham Council, and is part of a coordinated effort with the voluntary sector to prevent and respond to the pandemic. 100% of funds raised will help groups working with people who face risk as a result of Coronavirus in Hammersmith & Fulham.
The charity will provide micro grants directly to groups supporting the population in Hammersmith & Fulham. This includes those particularly focusing on the extra needs of people who are:
at risk of complications severe enough to require hospital care
at risk of being unable to cope with isolation
at risk because they're living in poverty

This includes conducting deep cleaning for community hubs and purchasing protective equipment for frontline workers, but also creative ideas that help others adjust to and live through social distancing, help people cope with anxiety, and help resolve practical consequences of isolation.
UNITED in Hammersmith & Fulham is a local charity that inspires and helps fund activities that promote a strong sense of togetherness in the diverse London borough. This is achieved by connecting those who want to support the community with local causes that will best use their investment. They are experienced with giving microgrants and express their capacity to unlock the potential in the borough to support one another.
Chair of United, Kevin McGrath, DL, OBE, said: "It is vital that this fund is part of the community response in preparation for what's to come The needs of our older community will likely change very rapidly over the coming weeks and months and so we are committed to doing what we can to help support."
UNITED in H&F has now streamlined its application process, to assist hard-pressed volunteer groups.
Savraj Kaur, Programme Development Manager at UNITED in H&F, explained: "We know frontline groups are incredibly busy in these trying times, so we've created a short and easy online application form to save time."
As the coronavirus pandemic continues its grip, UNITED has pledge to keep fundraising to help, with the community's generosity already exceeding the target of raising £50,000 to distribute.
If you're a community organisation you can apply for funding today via UNITED's website.
Click here to donate to the UNITED in H&F Coronavirus Response Appeal.
April 10, 2020