Plus CBE for former director of Hammersmith's Riverside Studios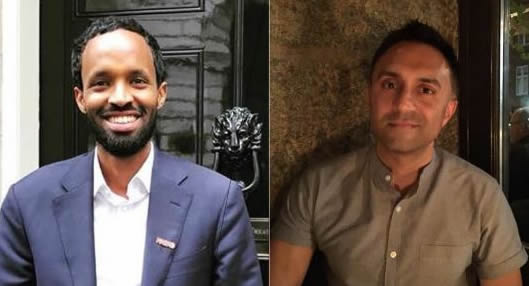 Adam Matan (left) and Pinakin Patel
Two prominent members of the Hammersmith & Fulham
community have been included in the New Year Honours List.
Shepherd's Bush resident Adam Matan – who chairs Hammersmith & Fulham Council's new Policing and Crime Commission – was awarded an OBE for his work within the local Somali community.
Adam said, "I am delighted. I am truly honoured to be receiving this OBE for a cause so dear to my heart. Thank you to each and every person who has been a part of this journey."
Adam is the founder of the Anti-Tribalism Movement. It's a non-profit organisation based in Shepherd's Bush that aims to tackle tribalism and inequalities within communities.
Adam has a postgraduate degree from SOAS University of London in Law and Leadership and currently sits on the government's Counter Terrorism Advisory Group.
Last year, he agreed to chair the council's Policing and Crime Commission because which offers a wide range of residents to have a say in how decisions about crime and safety issues are made locally.
Cllr Stephen Cowan, Leader of the London Borough of Hammersmith & Fulham, congratulated Adam on his honour saying: "Adam is a pioneer and a fantastic advocate for community relations in our borough. His leadership has resulted on our borough being safer and our community stronger.
"Adam's latest role as the chair of the borough's new Policing and Crime Commission builds on his successes and once again demonstrates his commitment to making our borough better for all our residents. Adam greatly deserves this honour."
Pinakin Patel, who leads H&F Council's Prevent team, was also honoured with an MBE.
Prevent is part of the government's counter-terrorism strategy. It aims to stop people becoming terrorists or supporting terrorism. The Home Office works with local authorities and a wide range of government departments and community organisations to deliver the Prevent strategy.
"I didn't think people like me got MBEs," Pinakin said. "It's lovely. But it was never my main aim. It's my job and I care about my work – so it's humbling to be recognised."
Pinakin, 44, joined the council in July 2005 – just days after the attempted terrorist bombing at Shepherd's Bush tube station. He helped lead H&F's response to an attack and later set up the London Prevent Network for officers to work together across London.
He also chairs the Prevent Advisory Group, which is the flagship organisation of local community groups which address issues fuelling the rise of terrorism in the UK. "We have an incredibly strong community spirit in H&F," he said. "I couldn't do it without help from everyone in the borough. It's just about listening to the community and working to keep people safe."
Kim Smith, Chief Executive of H&F Council, paid tribute to Pinakin's work by saying: "Pinakin single-handedly built up our Prevent team from scratch.
"He's found motivated staff, delivered innovative and responsive awareness programmes, and established leadership across London. Above all, he's leading our fight against radicalisation and supporting counter terrorism work – so the award is very well deserved and we thank him for his hard work."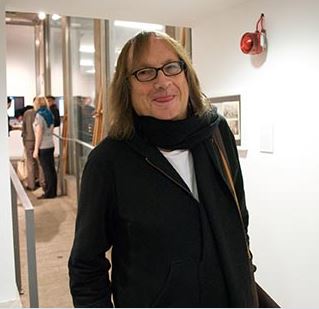 As well as these two awards for services to the community, David Gothard, former director and artistic producer with Hammersmith's Riverside Studios, pictured above, has been awarded a CBE - Commander of the Order of the British Empire - in the 2019 New Year Honours List for Service to Cinema and Drama.
David was artistic producer and director of the Riverside Studios in the eighties after completing a post graduate at the Bela Balasz Studio in Budapest and a trainee directorship at the Royal Court and Traverse Theatres.
Under his leadership, Riverside hosted a huge variety of international productions - including, notably, the work of Polish theatre maestro Tadeusz Kantor, as well as the highly successful Dance Umbrella seasons featuring the work of Rosemary Butcher and Rambert Dance Company. Residencies were offered to architect Will Alsop, the sculptor Bruce McClean, the film-maker Peter Greenaway and the dancer/choreographer Michael Clark.
At Riverside he also initiated the launch of Stephen Frears and Hanif Kureishi's work My Beautiful Laundrette, which became the founding film of production company Working Title. He also produced Kureishi's directorial debut film London Kills Me, and also produced two other films, Altitude in 2005 and more recently, Forgotten Man in 2017.

In recent years David has created writing workshops in Derry, Northern Ireland and repeatedly been invited to adjudicate and teach at the Iowa Playwright's Workshop, where began his pioneer work with Naomi Wallace, W. David Hancock, and other important writers.
After resurrecting the National Theatre of Kosovo immediately after the war, his opening Hamlet toured devastated cities and opened the arts program of the World Aids Conference in South Africa. His portable, suitcase Hamlet with Joseph Fiennes toured Muslim China and Tibet, where they held the first ever workshops in Llasa University.
Most recently he has been working as Artistic Associate for the world famous Abbey Theatre in Dublin, directing projects with the likes of Harold Pinter and Vaclav Havel.
The soon to reopen Riverside Studios offered their congratulations to David, along with Polish directors Teresa and Adrzej Welminski, who added: " We are very proud that David Gothard has been our friend for many years."
January 8, 2019