Hammersmith Town Hall Hosts Employment and Skills Fair
---
Find out about local vacancies training opportunities on Tuesday
H&F's annual Employment and Skills Fair is back at Hammersmith Town Hall on Tuesday 11 June.
WorkZone – in partnership with Hammersmith & Fulham Council – is hosting the free event, from 10am to 3pm in the Assembly Hall.
Everyone is welcome to attend and with a variety of local employers attendance, there will be a wide range of jobs, training opportunities, apprenticeships and advice available on the day.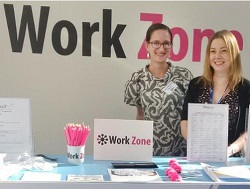 WorkZone, based in Westfield London's Southern Terrace, is a one stop destination for your jobs, apprenticeships, and training needs. WorkZone works in partnership with Hammersmith & Fulham Council and Westfield London, to provide a free recruitment service that helps local people into work.
Our free employment services exist to support local residents and connect you to our employers.
It assists jobseekers to:
Learn about opportunities in retail, customer service, construction, hospitality industries and much more
Access the latest available jobs at Westfield London
Get one-to-one advice towards finding work and starting an apprenticeship
Access the best skills training to prepare you for employment
Get advice from a dedicated recruitment advisor
Learn about opportunities to work for major companies and household brands
Find out more at Workzone's website.
June 10, 2019
August 30, 2018