Talk by BBC World Affairs Editor a highlight of KOFMA's autumn schedule
The Kensington Olympia Festival of Music and the Arts. or KOFMA is back with a new autumn season of events

These new events are at locations including two local churches named St Luke's in Uxbridge Road and Chelsea, Holy Trinity Church in Chelsea and Olympia London in Hammersmith Road.
This month's big event, on Friday 19 October is a talk by John Simpson at Olympia London in Hammersmith Road.
Here are the full details:
Changing Times – An evening with John Simpson - Upper Pillar Hall, Olympia London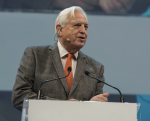 Join a talk from BBC World Affairs Editor, John Simpson. He will discuss how things have changed during his 50 year career in journalism. This covers, the change in media and reporting, conflicts and wars, how countries are governed, the super powers America, Russia and China, how the UK has changed with Brexit and even in terms of the Royals.
Friday 19 October 2018 - 7:30pm
Tickets Standard £20, Student £10
Please note that this is an upper level venue with limited access. Please let KOFMA know in advance if you may need assistance.
You can find out more about all these events and book tickets online at The Little Box Office.
KOFMA's events, including walks, talks and seasonal music, will continue in November and December. Watch this space for further details.
October 8, 2018