Boss Tony Mendes repeats 'there will never be a stadium' on his company's land
The news that Queens Park Rangers Football Club and Genesis Housing Association have received planning permission for a new housing development called Oaklands on Old Oak Common Lane has sparked a new row between the football club and Cargiant boss Tony Mendes.
Earlier this month, Cargiant unveiled an updated masterplan for its proposed development, Old Oak Park - on land which it currently owns, but where QPR hopes to build a new stadium.
Oaklands is a separate scheme and the first of its size to be approved by the Old Oak and Park Royal Development Corporation, or OPDC. It is set to include 605 new homes and hundreds of jobs.
Oaklands, outlined here in purple, is on the western edge of the Old Oak area, which is outlined in red.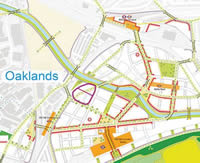 The area owned by Cargiant which would become Old Oak Park, shown outlined in red, is further east on the northern side of the canal.
When announcing the planning permission for Oaklands, Tony Fernandes, QPR Co-Chairman made it clear that he saw this development as a step towards achieving the stadium, saying this was the club's 'primary interest.'
You can read more about the announcement here.
In response, Tony Mendes has issued a statement headlined 'Clarity on Cargiant's Land at Old Oak Common', saying: " Following recent misleading reports that Genesis Housing Association and QPR's planning approval from the OPDC Planning Committee for a 600-home development improves the Club's ability to deliver a stadium here we wanted to once again set out our position with regard to our land, the Cargiant site."
This was followed by the re-publishing on the Old Oak Park website of a letter written to QPR supporters in March this year.
In the letter, he said: " I can confirm that neither Cargiant, nor our development partner London & Regional Properties, are in any discussions with QPR and that we will not enter into any such discussions or agreements with the Club in any way, shape or form.
" In short, we will never agree to a stadium on any part of our land under any circumstances and we have made that position crystal clear to the Club, the GLA and the OPDC on numerous occasions.
" The reason is quite simple. A stadium would be completely the wrong use for our land. Our site is critical to the success of Old Oak Common and a stadium requires an enormous amount of land which would hugely reduce its ability to deliver new homes, jobs and other uses such as a cultural quarter – and all for a use which lies largely dormant for the vast majority of the year.
" We are committed to bringing forward a masterplan that is far more sensitively designed, that has incredible parks and open spaces, and that has far greater benefits for local residents and surrounding communities than is possible with a stadium. Our approach is also backed by policy and the latest policy framework issued for consultation by the OPDC does not include a stadium on our site."
Even more emphatically, the letter continues: " The statements of QPR implying that a stadium could be built on Cargiant land are at best confusing and at worse misleading. Under no circumstances will we consent to a stadium on our land. Any further work by the Club in this direction is futile."
You can read the letter in full here.

July 25, 2016