Hammersmith and Fulham Council is collecting Christmas trees for recycling from Thursday 2 till Friday 15 January.
The council says if you normally get an on-street waste collection, you can simply leave your tree where you wwould leave your rubbish.
Please make sure:
it is clearly visible
it is not obstructing the pavement
all decorations and pots are removed.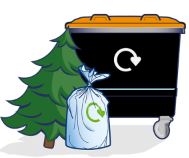 Put your tree out for collection before 7am on your collection day and trees will be collected in the afternoon.
There are also designated collection points around the borough where you can take your real Christmas trees for recycling until 15 January:
Fulham Palace Road Cemetery (opposite Queensmill Road)
Loris Road Community Gardens Batoum Gardens
New King's Road (on edge of Eel Brook Common)
Normand Park (opposite Lillie Road entrance)
Ravenscourt Park (by football pitch, access by foot via Ravenscourt Park Road)
Wormwood Scrubs car park (off Scrubs Lane)
South Park (hard standing next to cricket nets, access by foot via Woolneigh Street)
Cathnor Park (next to the play area, Greenside Road)
Wormholt Park (Sawley Road entrance)
Bishops Park (next to cafe, Bishops Park Road/Stevenage Road entrance)
The council says trees will be composted and put to good use rather than going to waste.
You can find more information about recycling over the holiday period here.
December 29, 2019