It's all change this week at pop up bar and restaurant Market Yard in Goldhawk Road.
From this Wednesday, March 23 through till May 1, the second restaurant to take up residency will be Made of Dough, taking over from Foley's Tasting Kitchen who have been in residence for the last six week.
Made of Dough is one of Brixton's hottest new pizza joints created by two gents- Ed Sandeman and Henry Amodio – one from Campania and the other from Andalucia, making proper pizzas with a nod to Southern Spain.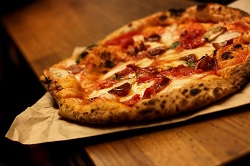 Market Yard is the latest venture from the Feast team, who describe is as an all-new dining experience, aiming to serve up affordable, delicious and exceptional food in Shepherd's Bush.
Market Yard is open for another six weeks in Shepherd's Bush Market opposite Goldhawk Road Station. It has 80 seats in all spread across two areas.

Formal restaurant service takes place in the Pergola, which is covered and fully heated. It takes bookings and walk ins, 60 / 40 split.
The bits and bobs menu, meanwhile is served in the Arch bar, all walk ins, no bookings needed and just a nice place to sit at the bar, have a nibble and some drinks.
Market Yard is open Wednesday, Thursday and Friday night, all day Saturday and Sunday.
To book a table, email rsvp@incipio-events.com with your preferred date and time.
Market Yard will be open till May 4 and the very popular Little Feast will be back for the summer from mid May.
Find out more and check out what's on the menu at Feast's website.
March 21, 2016