Pop-up Restaurant Little Feast Takes an Autumn Break
---
But Goldhawk Road hotspot promises to return for winter in November
Summer hotspot, pop-up restaurant Little Feast in Goldhawk Road has closed its doors - but is promising to return later this autumn.
This summer, Little Feast offered seating for 240 people, both indoor and out, along with an Arch Bar, music and six kitchens offering street food from around the world.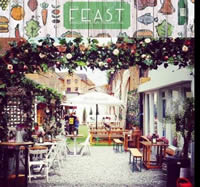 After extending its opening dates, it finally closed on September 11. However on its website, Feast says: " Little Feast is currently closed, but don't panic! We're just having a little seasonal makeover, coming back with a vengeance as 'Little Feast Winter' in early November.
"Stay tuned to Twitter @WeFeastLondon for more details."

The good news for Shepherd's Bush gourmets is that W12's second favourite pop-up spot, Pergola On the Roof is staying open through till October 2, so there is still time to take to the roof of the former BBC Television Centre's multi-storey car park to enjoy the mix of food, cocktails and stunning views over West London .
September 19, 2016