Good Shepherd Primary School pupils made a splash by winning the top spot in the 2015 primary schools' swimming gala.
The Shepherd's Bush school took first place at the annual event,which was first held in the 1930s.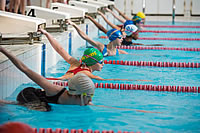 Organised by Hammersmith & Fulham Primary School Sports Association, the event at Fulham Pools involves both girls and boys competing across 48 races in the heats.
The top eight schools then go through the finals, which were held on Friday, February 27.
After 16 events, Good Shepherd had accumulated the most points across all events in both boys' and girls' competitions. Runners-up was John Betts and third was Larmenier and Sacred Heart.
Former head of Lena Gardens Primary School in Shepherd's Bush, and event organiser, Calum Fairley, said: "It is an amazing event, we have had hundreds of supporters today, including parents and the childrens' behaviour and attitude at both events this week was exemplary, it was just fantastic.
It is an uplifting experience for everyone."
In the boys' competition, the overall winner was John Betts, with the freestyle event being won by Greenside and the relay honours going to All Saints.
Second in the boys' event was Good Shepherd, with Sir John Lillie third.
For the girls', Larmenier and Sacred Heart took the top spot, winning both the relay title and freestyle events. Good Shepherd came second and St Stephens came in third.
The winners' trophies and racers' medals were presented by Sue Hayward, chair of the sports association.
"Congratulations to Good Shepherd Primary School's swimmers for their outstanding performances and well done to all those who took part and continue to make this event such a closely-fought and enjoyable competition," said Cllr Sue Macmillan, H&F Council's Cabinet Member for Children and Education.
Mr Fairley also praised the help of volunteers from Ealing Swimming Club, who helped with timing and refereeing the races, as well as staff from Virgin Active who helped with the logistics.
You can see lots more pictures of the gala on the council's Flickr Gallery.
March 16, 2015