Leave your car to charge while you do your shopping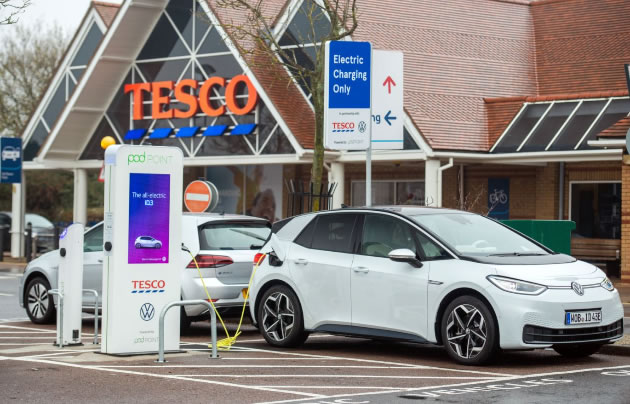 Electric cars charging at Tesco
Electric car owners in Hammersmith and Shepherd's Bush can now charge their vehicles for free at the local Tesco superstore.
Volkswagen and Tesco have partnered to provide the largest retail electric vehicle charging network in the UK – powered by Pod Point, giving EV drivers a place to charge their cars while doing their shopping.
The Tesco Superstore on Shepherd's Bush Road has now been fitted with complimentary charging points.
Owners of electric cars made by any EV manufacturer can use the 7kW charging points for free. Drivers just need to download the Pod Point app, plug in the charger and confirm their charge.
The free charging points are a response to the growing demand for electric cars owners.
It is part of a nationwide rollout which will see 2,400 charging points installed at up to 600 Tesco stores over three years – with all electricity used to charge cars generated from renewable sources.
Daniel Stone, divisional director at West London Volkswagen, said: "We're committed to improving e-mobility and are proud to have teamed up with Tesco and Pod Point to provide free charging points in Hammersmith.
"Any EV driver can use the points for free and the initial response from motorists has been really positive."
Recent figures from the Society of Motor Manufacturers and Traders (SMMT) revealed registrations for EVs are up by 158 per cent this year.
Jason Tarry, Tesco CEO UK & ROI, said, "Providing customers with charging points offers them a sustainable choice and giving them the opportunity to charge their car for free while they shop is a little help to make this easier."
Erik Fairbairn, from Pod Point, added, "Working with Tesco and Volkswagen to roll out smart, easy-to-use chargepoints across the UK will help accelerate EV adoption."
It is estimated the average electric car owner will be able to get around 22.5 miles of free charge while plugging in for their weekly shop.

July 14, 2020