Support Needed for Businesses Underneath the Arches
---
Shepherd's Bush, Hammersmith and Ravenscourt Park locals urged to check them out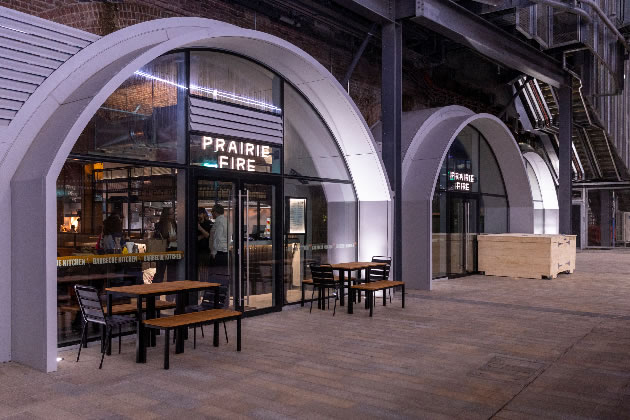 Priary Fire Kansas BBQ in Shepherd's Bush
Transport for London (TfL) is calling on residents of the Shepherd's Bush, Hammersmith and Ravenscourt Park areas to check out what is under their arches.
With the easing of lockdown they recently launched a campaign #loveyourlocalarches to encourage people to support their tenants occupying units under railway bridges.
Working with the Arch Co. and Network Rail, Arch Day on 29 August 2020 celebrated the businesses of all shapes and sizes that are located in the hundreds of arches across London including many in the local area.

TfL is one of London's largest landowners and it uses its estate in a variety of ways to generate income to reinvest into the transport network. This includes supporting numerous businesses on its properties across the Capital, including within its 800 arches.
In Shepherd's Bush, there are some interesting local businesses in the arches, including:
Prairie Fire –Prairie Fire's Kansas BBQ cuisine hasa range of dishes to choose from.
Bush Studios – If you need some space to practise your next performance, then Bush Studios can you offer you the chance to use state-of-the-art studios, which are ideal for pre-production, rehearsal, dance or showcase.
Aesme – This converted railway arch houses a contemporary studio space where the Aesme team arrange designs with appointments booked online and students attend seasonal Flower School classes.
Motorbike Giant – For all motorcycle fans, the team can help you get back on your bike with a range of repair services or purchase a new or used one for those looking to get on the road.
White City Signs Graphics Displays – If you're looking to make a good impression, the team can help you along the way with their skills including carpentry & electrical work, graphic design, shop front painting, fixing and council advice, and much more.
Bush Theatre – have an arch where they store props and costumes


In Ravenscourt Park and Hammersmith you will find:
Wave Brazilian Jiu Jitsu –the team offers lessons in martial arts for people with all levels of experience. The founder, Lorenzo, launched the business after developing his love for the sport himself, quitting his office job to do so.
Ravenswall Climbing Centre – This arch lets you get to grips (literally) with the art of rock-climbing, but in the safety of an indoor space.
London Motorcycles and W6 Auto Group - Both companies can help those of you looking to get advice or support when getting your vehicles back in top shape.
The Contract Chair Co. – Has lockdown made you bored of your current furniture? This arch lets you explore how you can snazz up your home with a range of new pieces.
M3 Research Facility – Need to undertake some market research? This arch offers multi-purpose market research facilities for focus groups, depth interviews and creative workshops.
State of Mind Fitness and Tribe – If you're looking for new ways to get fit and stay healthy, then both these businesses offer classes to help you do so.
Ahead of Arch Day, the Deputy Mayor for Transport Heidi Alexander and representatives from TfL visited a number of small businesses located in TfL arches to commend them on the work they have done to support the local communities during the coronavirus pandemic.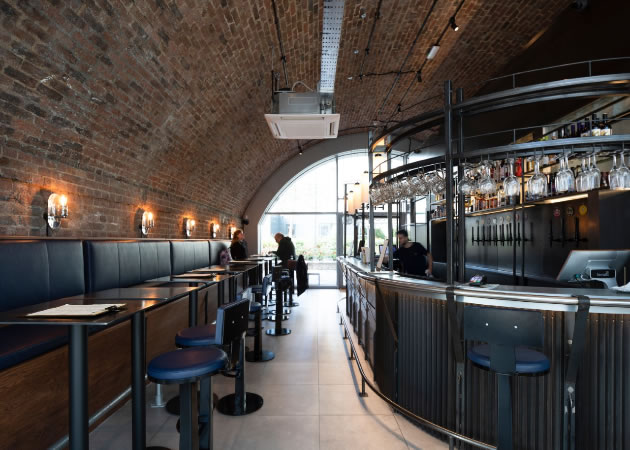 Interior of Priary Fire
More than 86 per cent of TfL's tenants are small and medium businesses, which means they have an important contribution to play in helping London recover. Recent research by the Federation for Small Businesses suggests that more people than ever are keen to shop local, with 63p of every £1 spent in a small business remaining in the local economy.
Since the start of the lockdown in March, TfL says it has offered businesses on its estate a wide range of support, including more time to pay their rent and supporting small and medium businesses with rent credits, so that businesses could focus on their recovery during these uncertain times. All small and medium businesses on TfL's estate received 100 per cent rent relief between March – June, and have had reductions in rents of 50 per cent since then.
From September, TfL will be introducing monthly payments in arrears for its tenants, rather than quarterly in advance. This will provide benefits in terms of both cashflow and flexibility for smaller businesses.
Deputy Mayor for Transport, Heidi Alexander, said : "Small businesses are at the heart of London's communities, but many have faced extraordinarily difficult times during the COVID-19 pandemic. I'm proud of all the work TfL has been doing to support its tenants, including offering rent relief for hundreds of small and medium-sized businesses on its estate.
"As we celebrate the unique contribution of small businesses based in railway arches across London this week, it is important that all levels of Government continue to support our small business community through the continued uncertainty of this global pandemic."

August 31, 2020