Union is recommending acceptance by Metroline drivers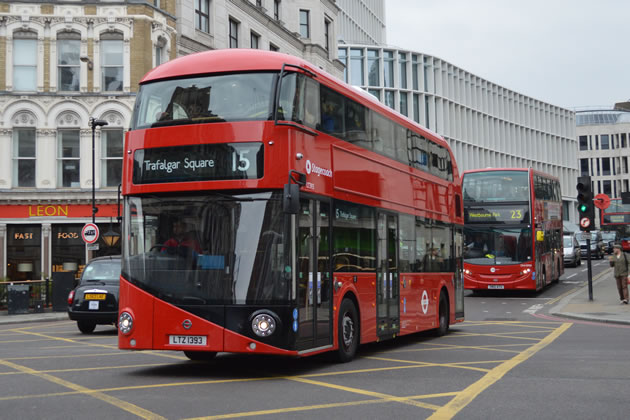 London Bus. Picture: Martin49
The bus strike set to take place later this month in north and west London looks set to be cancelled after an improved offer from management.
Unite the Union is strongly recommending that bus drivers employed by Metroline vote in favour of the proposal this Friday 21 May.
The company has agreed not to implement the controversial remote sign-on system for drivers when new contracts for routes are awarded up to the end of next year. Any implementation of remote sign-on after that period has now to be done in consultation with the union.
Explaining why the remote sign-on is so disliked, one bus driver of 20 years said, "At the moment we go to the bus garage and that's where I start my shift. But under remote sign-on I could start at a different bus stop every day.
"It means more travelling and bus drivers feeling fatigued, and it would extend our days by a long time and mean using more public transport or not having anywhere to park your car.
"It would make it much more difficult to have a work-life balance and see your children.
"And travelling late at night to different locations would be much less safe, especially for female drivers."
Mary Summers , Regional Officer of the union, describe the deal as a 'very significant win' in a letter to members. She added, "The point also needs reiterating. The improved proposal was not agreed by the employer at the start of the campaign or even up to a few days ago. It was only agreed by the employers at the last minute because the employers were under so much pressure in the lead up to strike action. They tried everything to undermine the strike and failed – leaving them with no option but to agree the proposal."
The company said that the industrial action was unnecessary because it had already agreed to halt the implementation of remote sign-on. It also accused Unite of "walking away" from an offer to negotiate with ACAS, the non-government arbitration service that's often called on to settle industrial disputes.
Over 100 bus routes would have been affected during the planned 48 hour strike by 4,000 drivers. The two day industrial action on 25-26 May, was to be followed by a 72-hour strike between 7-9 June.


Written with contributions from Owen Sheppard - Local Democracy Reporter

May 20, 2021