Says proposal to introduce lead-only areas could present risks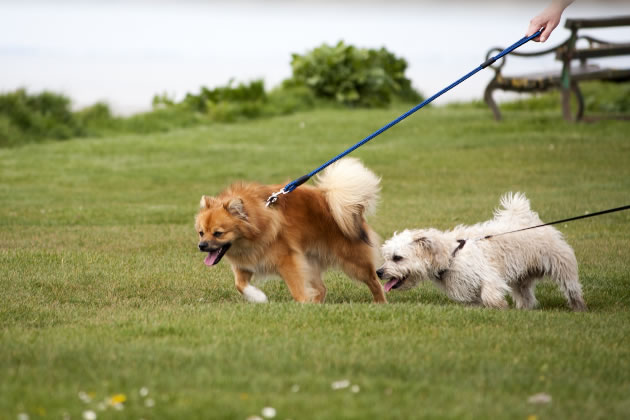 Keeping dogs on leads can cause behavioural issues. Picture: Karen Arnold
February 7, 2023
A canine expert has asked Hammersmith and Fulham Council to let dogs be off their leads as much as possible after a woman was mauled to death in Surrey.
Tom Holloway says the borough needs to create as many spaces as possible for dogs to roam freely.
It comes as the council said it was looking at introducing lead-only areas and announced plans to fine dog owners £100 for not having poo bags.
Residents could also be penalised for a range of offences, including having their pets in restricted areas and walking too many dogs at once if new rules are introduced by the council.
Speaking to the council's cabinet on Monday (6 January), the canine behaviourist said it was critical that dogs are walked without a lead every day and that the animals are able to socialise with other dogs.
Mr Holloway said, "I'm sure all this brings to mind the tragic death of the Surrey dog walker Natasha Johnston. Let's have a look at the lessons that can be learnt from that.
"It is believed that many of these seven or eight dogs were on leads. Being on a lead causes a lot of tension and frustration. Many dogs are reactive on lead but not off lead.
"When walking groups of dogs we should be looking to get a good amount of them off lead as soon as possible and not think that keeping them on lead is a simple answer."
The resident also suggested the council should let dog walkers have up to five dogs with them at once or two dog walkers should be allowed to walk eight dogs together.
Natasha Johnston, 28, had to be identified through her dental records after she was attacked by a group of dogs on 12 January. Police seized eight dogs at a popular dog-walking spot in Caterham, Surrey.
Hammersmith and Fulham residents have written to the council about its plans for dog owners. Over 300 neighbours have signed a petition calling for the council to scrap some of the proposals including its 'stop and search' plans to check for poo bags.
Residents have said some of the rules would punish good-natured dogs by restricting where they play and instead it wants the council to provide more poo bags and spaces for dogs to be trained.
Speaking at the council's cabinet meeting Monday (6 February) councillor Adronie Alford said, "It does sound very draconian that people are going to be prosecuted… When I'm wandering down the street with [my dog] Zeus somebody stops me and asks have I got a bag.
"Yes, I always have got a bag but it has to be asked in a tactful way rather than making people frightful when they are taking their dog out."
Council leader Stephen Cowan said, "There are some people who won't be reasoned with and we should fine them. That is how we do things in Britain."
He added, "We need to give people the powers to address sometimes persistent behaviour. I am absolutely on side with all the sentiments on this and I am very keen there is a soft landing on this."
The council leader later revealed he was the godfather of a dog in Brooklyn in the United States. He added, "[Residents] all love their dogs as members of their family as I do with my god dog… We think this will help us and we are open-minded to how we can make it work in practice."
Dog ownership in the borough shot up 29per cent in Hammersmith and Fulham following the Covid lockdowns, according to councillors.
Hammersmith and Fulham's plans first appeared in November 2022 and are part of a public space protection order (PSPO) that will also exclude dogs from playgrounds and sports courts.
The council is set to decide on whether to bring in the new rules soon.

Jacob Phillips - Local Democracy Reporter