With creepy events hosted at Brompton and Kensal Green Cemeteries
The capital's creepiest event, London Month of the Dead offers is back this month, hosted by independent arts label Antique Beat and arts event company A Curious Invitation.
Throughout October and concluding on All Souls Day, The London Month of the Dead is once again investigating the capital's relationship with its deceased residents, with 42 events, mostly taking place in the chapels of Kensal Green and Brompton Cemteries.
This year's events include a private view of the Museum of London's bone archive, taxidermy workshops, macabre walking tours and private views and a programme of weekend death salons with talks on subjects ranging from public dissection and body snatching to reincarnation and funereal folklore.
Each salon features an authority in a field such as osteology, forensic pathology and the paranormal, offering their own perspectives and insights on mortality in the city.
As happens every year, some events sell out very quickly. However you can find out which still have tickets available and buy them here.
You can see the full programme here.
Brompton and Kensal Green Cemeteries are part of the Magnificent Seven, the septet of Victorian cemeteries that became showcases for neo-classical and new-Gothic architecture within six miles of St Paul's Cathedral.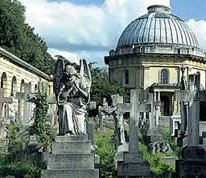 Each year the London Month of the Dead donates 20% of their ticket revenue to the venue hosting each of their events.
October 3, 2018