Showcase your products and get expert support at the Petit Miracle Hub
Local charity Petit Miracle Interiors is inviting local budding entrepreneurs to join its hub on the first floor of the West 12 Shopping Centre on Shepherd's Bush Green and launch their own mini shops.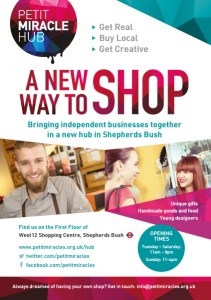 Petit Miracles gives people starting their own businesses a chance to showcase their products and services in its community shop, the Petit Miracle Hub.
You will get your own kiosk to showcase your products, as well as incubator support to help your business to grow including training and a mentor.
Priority is given to local people who live in Hammersmith & Fulham, Kensington & Chelsea and Westminster.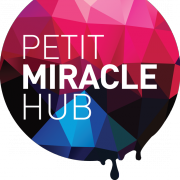 Current retailers offer products including food, jewellery, clothing, linens and paintings while services include photography and volunteer courses, educational services and interior design. You can see a full list and find out more about whats on offer here.
Petit Miracles say they have spaces coming up in the autumn, and anyone interested can find out more and apply here.

Petit Miracles also run weekly workshps for local people teaching furniture upcycling and DIY.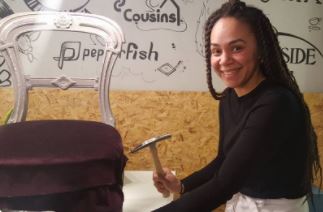 Furniture upcycling workshops are held on the first and second Saturday of the month and involve working in a small group so the session will be tailored to your skill level and experience. In general, you will work on a small item, such as a chair, stool or side table, and you can expect the session to cover minor furniture repairs, sanding and waxing / finishing furniture.
Learn How to use Power Tools and DIY your own Vintage Coat Rack on the third Saturday of the month. It doesn't matter if you've never held a hammer, or don't know your lug nuts from your wall plugs. Thisworkshop will give you the know-how and the confidence to tackle basic DIY jobs around your own home.
Not only will you get hands-on experience, you will also receive valuable insight into the various accessories and attachments that can be used, as well as offering tips, tricks and techniques for using power tools and woodworking methods.
Learn how to Upholster a Drop-in Seat using Traditional Materials and Techniques on the third and fourth Saturday of the month. Learn from the experienced team how to re-upholster a drop-in seat using traditional methods.
The Petit Miracle Hub also invites attendees to learn, develop and refine their entrepreneurial skills at our monthly business workshops. These are run as part of the Start Your Own Enterprise Programme funded by the local council. These workshops are FREE for H&F residents. Proof of address will be required from new members (photo ID or a letter).
Find out more at the Petit Miracle hub, on the first floor of the West 12 Centre or visit the events section of the website.
You can also sign up at the Eventbrite calendar.
September 2, 2018