Nostalgic story of true love revealed after chiswickw4.com publishes appeal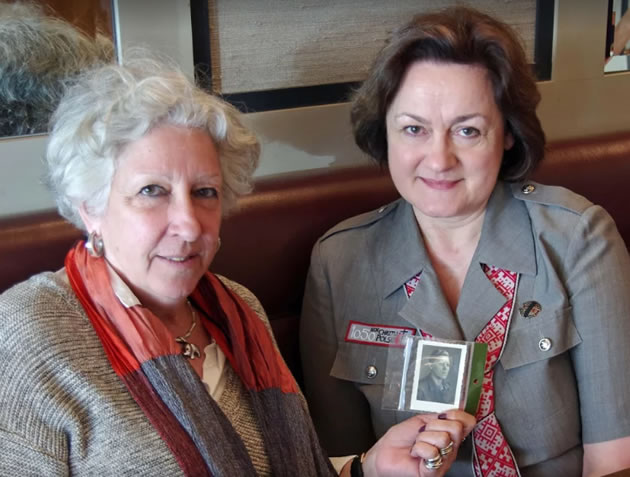 Angela (on left) holds up the photo of Peter, with Teresa, who found it
A story of enduring love between a daughter of an Italian emigrant tailor and a young London artist has emerged following an appeal by Chiswickw4.com to help reunite a photograph found on the street with its owner.
The photograph of 'Peter' was found on the ground at the westbound bus stop on King Street, between Beavor Lane and Standish Road, on the evening of Tuesday, 2 May 2017 by a Chiswick resident Teresa Ciecierska.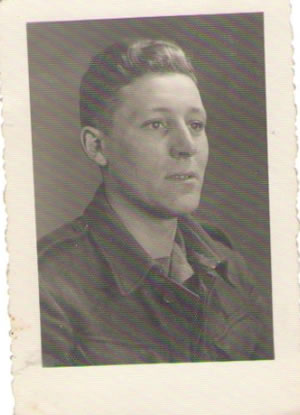 There was a message written on the back of the photograph from Peter to 'Georgette' expressing his love for his new wife and hoping she liked him in his Army uniform.
After our appeal, to help trace the owner of the photograph, Angela Tuthill from Chiswick got in touch to tell us that this was a picture of her uncle Peter Collins, who was a talented and prolific artist. He had married her aunt Georgette just prior to the photograph being taken.
Georgette's father Giuseppe Andreassi was a tailor from Italy, whose clients included Queen Mary, and his wife, Terese was a dancer from Germany. The family, including another daughter Fedora, (Angela's mother) lived in in north London and Georgette became a primary school teacher. She met Peter when she was 17 and he was 15 and they fell in love.
When the war broke out, there was major upheaval in her family. Their Italian-born father was accused of being a fifth columnist and was arrested just days before his daughter, (Angela's mother) was due to marry- he was making her wedding dress at the time of his arrest. He was deported on board the SS Arandora Star, which was torpedoed in July 1040 by a German u-boat and he was drowned. Life was difficult for the family-Georgette's mother, as a German -born national had to regularly report to the police.
In May 1943, Georgette and Peter were married and he had two weeks leave before leaving for Italy, which is when the photograph was taken.
After the War, the couple settled down in Sussex where they bought an antiques shop (Peter's family had links with the antiques world). During the week he worked as a graphic artist in London and then rented a studio in Chelsea to paint. In the 1970s, the couple saved the block of artist's studios from demolition by purchasing the block, and renting them out to artists.
He was a prolific painter, of landscapes, portraits,and life drawings and his work was shown in the Royal Academy. He also taught at St Martin's School of Art and the couple spent time at the Chelsea Arts Club mingling with the artistic community in London.
While they had no children, they were very close to their nieces and nephews. Angela recalls visiting Peter and Georgette while she was working in London. "They were a bohemian couple, very artistic, and young people could talk to them in a way they couldn't talk to their parents. They were a fantastic pair, and had a lovely life together."
Peter died in his sleep of an brain aneurysm at the Chelsea studio fourteen years ago. Georgette retired to live at the Chelsea studio and died there last December.
This weekend Angela met with Polish born Teresa, who found the photograph and they had a long chat together. Teresa brought along a photograph of her uncle who had been in the Polish Army and was killed during the Second World War. She said that when she spotted the photograph on the ground, she fully realised it would be important to a member of a family and contacted chiswickw4.com to see if we could help trace its owner.
Angela believes the photograph must have dropped out of her bag when the family went for a meal near Ravenscourt Park recently.
"It means so much to me to have this photograph back. I carried it around everywhere with me and was so upset when it went missing. Thank you to the lovely woman who found it and made sure it got back where it belongs."
"Thanks also to chiswickw4.com for highlighting the matter and helping me get the photograph back."
May 22, 2017