More trains and more destinations for W12 rail passengers
Shepherd's Bush rail passengers are set to benefit from several improvements to the Overground network in both the near and distant future.
Southern, which operates the line that runs through Shepherd's Bush, is to introduce its extended train service to Milton Keynes on Monday (February16), two weeks later than originally planned.

In spring of this year, the first of the new Class 378 three-car electric trains are due to be in service. The West London Line group says the trains will have more capacity overall, but fewer seats. The trains will be made up of four cars once Willesden Junction's platforms have been extended, the group says, and this should happen in 2010.

TfL London Rail's managing director Ian Brown said a total of £1.4billion was being invested in London Overground. "A fleet of 32 new trains will enter service from 2009 with more capacity, air conditioning and real time information."
In 2010 the service between Clapham Junction and Willesden Junction will be doubled to four trains per hour and every other train will continue through to Stratford.
H&F councillor Nicholas Botterill said: "Residents have had to put up with cattle-class trains for too long and rush-hour crowding is expected to increase, especially on lines into London.
"The announcement of extra Overground trains will be very welcome for local rail passengers and the increased capacity cannot come too soon."
Transport for London will be upgrading CCTV, PA, lighting and passenger information screens, providing new signs, undertaking general refurbishment and installing new lifts at some locations.
Meanwhile, on Thursday (February 12), the Mayor of London Boris Johnson and Transport Secretary Geoff Hoon announced that funding had been agreed for the next phase of the East London Line which will create an orbital railway around the capital, liking Shepherd's Bush with many new destinations across the capital, via Clapham Junction.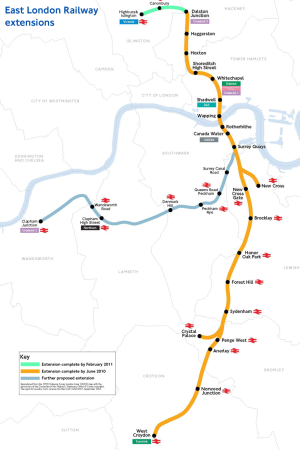 The extension to the Overground network will be constructed before the 2012 Olympic Games at a cost of £75 million and will link Surrey Quays to Clapham Junction, providing direct links to the City and Docklands.
There will be four trains an hour in each direction between Dalston Junction and Clapham Junction calling at all stations en route.
Boris Johnson, the Mayor of London, said he was delighted at the news: "We can finally get cracking on a vital section of track that will orbitise our Overground rail services. I promised Londoners that where funds were made available we would build the improvements they need. And it will be a real achievement when our Overground services are fully 'Oysterised'. I am delighted that a long hard slog of negotiations between ourselves and the Department of Transport has borne fruit that will result in a superb new service for thousands of Londoners."

Transport Secretary Geoff Hoon said: "I am pleased to announce an additional £64 million for TfL which will allow them to press ahead with the further extension of the East London Line to Clapham Junction and deliver a number of other transport improvements in London."

The Department for Transport is providing £64 million for the East London line extension Phase 2 and other transport improvements. The Mayor and TfL will be contributing £15 million towards the cost of the scheme.

The project is expected to be completed by May 2012.
12 February 2009