Borough Government
Shepherd's Bush is in the London Borough of Hammersmith and Fulham
Local Election 2018 - Labour Increase Majority in Hammersmith and Fulham
Representation on Council By Party
Wards in the Shepherd's Bush Area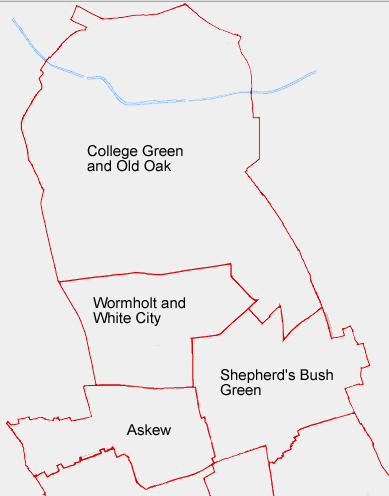 Click on map to go to details of ward
Hammersmith and Fulham Council election result 2010
Party
Seats
Gains
Losses
Net gain/
loss
Seats %
Votes %
Votes
+/−

Conservative

31
0
2
-2
67%
44.6%
94,246
-5.8%

Labour

15
2
0
+2
33%
34.5%
72,896
+1.4%

Liberal Democrat

0
0
0
0
0%
20.0%
42229
+6.1%

Green

0
0
0
0
0%
0.7%
1500
+0.2%
Borough Elections State of the Parties 1964 – 2014
| | | | | |
| --- | --- | --- | --- | --- |
| Date | Conservative | Labour | Liberal Democrat | Total |
| 3rd May 2018 | 35 | 11 | 0 | 46 |
| 22nd May 2014 | 20 | 26 | 0 | 46 |
| 6th May 2010 | 31 | 15 | 0 | 46 |
| 4th May 2006 | 33 | 13 | 0 | 46 |
| 2nd May 2002 | 18 | 28 | 0 | 46 |
| 7th May 1998 | 14 | 36 | 0 | 50 |
| 5th May 1994 | 15 | 33 | 2 | 50 |
| 3rd May 1990 | 22 | 28 | 0 | 50 |
| 8th May 1986 | 9 | 40 | 1 | 50 |
| 6th May 1982 | 23 | 25 | 2 | 50 |
| 4th May 1978 | 24 | 24 | 2 | 50 |
| 4th May 1974 | 10 | 48 | 2 | 60 |
| 13th May 1971 | 2 | 58 | 0 | 60 |
| 9th May 1968 | 54 | 6 | 0 | 60 |
| 7th May 1964 | 7 | 53 | 0 | 60 |
% share of the vote 1964 – 2006
Date
Conservative
Labour
Liberal
Democrat
Others
Turnout %
6th May 2010

44.6

34.5

20.0

0.7

-

4th May 2006

50.4

33.1

13.9

2.0

39.7

2nd May 2002

42.5

41.0

14.1

2.4

32.0

7th May 1998

37.4

49.7

12.6

0.2

34.2

5th May 1994

35.9

49.8

13.6

0.7

46.3

3rd May 1990

42.3

48.3

5.3

4.1

53.2

8th May 1986

33.7

50.8

13.4

2.0

51.8

6th May 1982

40.1

37.7

20.4

1.9

50.0

4th May 1978

47.6

45.6

3.9

2.9

50.5

4th May 1974

36.3

56.8

6.3

0.6

41.3

13th May 1971

36.5

61.6

1.8

0.1

47.6

9th May 1968

58.2

38.9

2.3

0.6

39.1

7th May 1964

33.9

62.7

2.7

0.8

32.0

Westminster Constituency
The constituency of Hammersmith is held by Andew Slaughter for Labour.
Hammersmith's New MP Thanks Voters
Andy Slaughter "absolutely delighted" with election result
Andy Slaughter Wins Hammersmith
Labour win hard-fought battle for new constituency
London Assembly - Shepherd's Bush is in the West Central constituency for the London Assembly
European Parliament
Who represents Shepherd's Bush in the European Parliament?
Other Links
Hammersmith and Fulham Labour Party
Hammersmith and Fulham Conservatives
Hammersmith and Fulham Liberal Democrats
This site has no political affiliation and welcomes contributed views from all mainstream political parties.