Building of 3.5km two way track set to cause traffic delays from April till November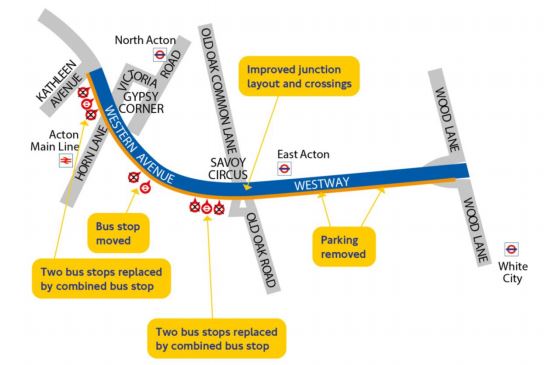 Work is scheduled to begin today, Monday 18 March, constructing a new 3.5km cycle route between Acton and Wood Lane.
The new two way cycle track, called Cycle Super Highway 10, separated from pedestrians and other traffic, will run along the southern side of the A40/Western Avenue from Kathleen Avenue in Acton to Wood Lane near White City, helping to make cycling and walking safer and easier in the boroughs of Ealing and Hammersmith & Fulham.
Work on the new Super Highway is set to last until 18 November, and TfL says that from 8 April, the A40 will be reduced from three lanes to two lanes for westbound traffic, 24 hours a day during works.
Queueing is expected to be longer, and impacts to traffic more pronounced, in the PM peak periods (weekdays 2pm - 6pm). TfL advises drivers to plan ahead, travel outside peak periods, and leave extra time for your journey.
You can see more about travelling in the area during the works here.
TfL says the main proposed changes between Acton and Wood Lane include:
Changes to make it safer and quicker to cross the southern side of the busy Savoy Circus junction
Wider, raised crossings at the A40's junctions with Kathleen Avenue, Allan Way, Court Way and Park View
Wider walking and cycling crossings at major junctions
Improved shared-use footways on large sections of the southern side of the A40 Westway between Wood Lane and Savoy Circus
1.8km of new protected two-way cycle track running next to the footpath between Kathleen Avenue and Savoy Circus - this will connect to the 1.6km shared-use footway to be built east of Savoy Circus to form a continuous cycle route
TfL says over three-quarters (77%) of people who took part in a consultation about the scheme in 2016 supported the proposals. Following this feeback, several improvements have been incorporated in the final plans, as shown in the map above.
These include extending the two-way cycle track from Glendun Road to Savoy Circus, as well as widening crossing points to allow people walking and cycling to cross side roads more safely.
The full report, which responds to issues raised, is available here .
Feedback from the 2016 consultation also highlighted a number of issues with a proposed extension of the route from Wood Lane to Paddington along the A40 Westway.
TfL says it is continuing to work on an alternative extension of the route from Wood Lane to Notting Hill Gate and will consult on this over the coming months.
Will Norman, London's Walking and Cycling Commissioner, said: "I'm delighted that construction on this protected route will start in just a few weeks' time.
"Together with the recently announced 7km route between Kensington Olympia, Hammersmith and Brentford Town Centre, it will transform cycling in West London and help expand our network of cycle routes across our city.
"We know that there is high demand for cycling in the area and the improved plans will deliver further improvements for walking and cycling, helping reduce car use which is crucial to cleaning up London's toxic air."
In January, TfL announced its next steps for a major new cycle route between Brentford and Olympia in west London. The 7km route will transform roads between Kensington Olympia, Hammersmith and Brentford Town Centre and construction work is planned to begin in summer this year on consulted sections.
In December 2018, the Mayor's Cycle Action Plan set out ambitious targets for bringing the capital's cycling network to even more Londoners, ensuring a high standard for cycle routes and significantly increasing the number of cycle journeys made.
TfL and the Mayor committed to expanding the capital's cycle network at pace and increasing the proportion of Londoners who live within 400 metres of the cycling network to 28% by 2024, up from nine per cent.
By 2024, the plan aims for 1.3 million trips to be made by bike every day, up from 0.7 million in 2017. The Mayor's Transport Strategy target is for 80% of journeys to be made by walking, cycling and public transport by 2041.
TfL is also set to announce a new single name for all the existing and proposed Cycle Superhighways and Quietways across London, which will make life easier for cyclists with simple, easy to understand signs across the Capital.
March 18, 2019