Last chance to take part in survey on proposed zebra crossing changes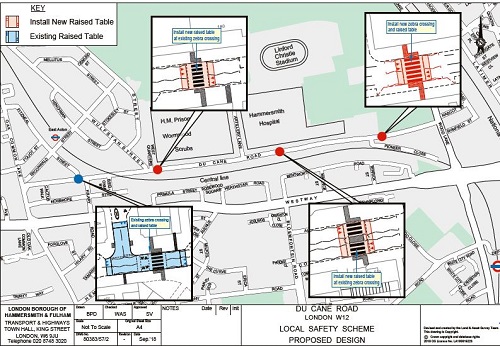 There is a last chance this week for residents of Shepherd's Bush to give their views on H&F Council plans for the
Installation of raised pedestrian crossings on Du Cane Road.
The council says recent speed monitoring has shown traffic travelling along Du Cane Road is consistently exceeding the speed limit. The higher speed of travelling can contribute to the number of collisions and severity of injury.
Due to the safety concerns, the council is now proposing to raise two existing zebra crossings to help slow traffic down.
In addition, it proposes to install a new raised zebra crossing to help pedestrians, including school students, cross this busy route and would like to know if you think this is a good idea.
There is an existing crossing raised table at the western end of Du Cane Road at the junction with Fitzneal Street and the council proposes adding raised tables at two existing crossings to HMP Wormwood Scrubs and Hammersmith Hospital.

It also proposes adding a new zebra crossing with raised table at the eastern end of Du Cane Road, next to Pioneer Close and close to the junction with Wood Lane.
You can see a larger version of the map above showing the proposed location of the traffic calming measures here.
You can make your views known here before the consultation closes on Friday 19 October.
The council says the cost of these improvements would be covered by its annual Transport for London local transport funding.
October 15, 2018