Exhibition London is second new entertainment venue coming to Wood Lane in 2019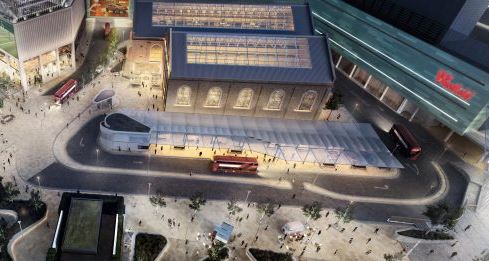 CGI of the completed Exhibition London
The Dimco East Building, next to Westfield Shopping Centre on Wood Lane Lane, is to be transformed into a new music and exhibition venue called Exhibition London, which will hold up to 3,000 people.
This is the second new venue scheduled to open in the area this year, following last week's announcement about the launch in summer of Troubadour White City Theatre across Wood Lane at White City Place.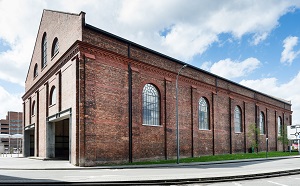 Work on the Dimco Building begins this month, with the venue set to open by the end of 2019.
The Grade-II listed building was built in 1899 as an an electricity generating station for the London Underground.
It also famously starred as the Acme Factory in the 1988 film Who Framed Roger Rabbit?
More recently it has been used as a bus garage as part of White City bus station, before being sold by Transport for London to Westfield a year ago.
Now Westfield's owner, French real estate and investment firm Unibail-Rodamco-Westfield has teamed up with Broadwick Venues, part of festival and entertainment specialist Broadwick Live, to transform the building into Exhibition London.

The name was chosen because of the site's proximity to the site of the Franco British Exhibition of 1908.
It will host high-profile live music events, brand experiences, product launches, exhibitions, conferences, award ceremonies and community events.
Spread across two floors, Exhibition London will have multiple rooms, formats and configurations as well as a number of adaptable relaxation areas and onsite food and drinks vendors, making for a truly unique venue.
It also sits at the heart of Westfield London's £600m expansion, with its development following the centre's tenth anniversary year in 2018.
Broadwick Venues, which has had success with Printworks London, its venue in Surrey Quays will continue to operate Exhibition London in the future and Broadwick Live will programme the majority of its musical events.
Bradley Thompson, MD of Broadwick Live & Venues, says: "Exhibition represents an important moment in the evolution of Westfield London, creating a unique entertainment hub and enhancing the area's cultural kudos. It will attract and serve not only the local community, but the ever-increasing number of people who rightly view White City as one of the most exciting growth places in the capital.
"The location is perfect and the building itself is incredible. We are committed to respecting its past and investing in its future; offering fantastic, contemporary experiences against a stunning Victorian backdrop."
The new venture is being supported by H&F Council and Council Leader Cllr Stephen Cowan says: "Our top priority is to make sure that local people benefit from growing prosperity in H&F. The new venue will be a great addition to our arts scene, while offering new jobs for local residents."
February 7, 2019