Violence and self-harm rising as prisoners kept in cells for most of day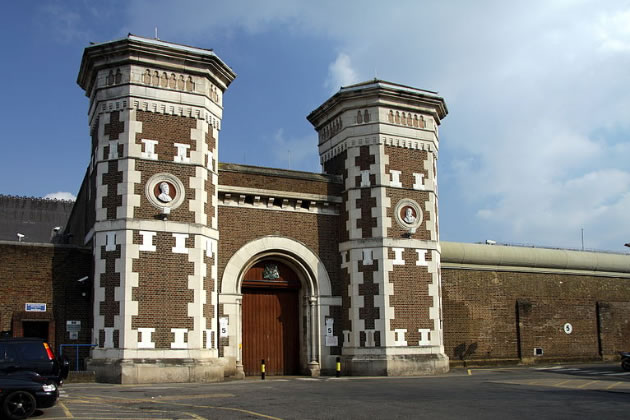 Wormwood Scrubs Prison. Picture: Chmee2
Wormwood Scrubs prisoners are being fed frozen oranges and face up to 23 hours a day trapped in their cells, a new report has revealed.
An increase in violence and self-harm have been recorded at the prison and one inmate was left 14 days without a change of clothes.
"Dirty protests" where inmates smear faeces, also regularly happen in the prison's isolated cells and other wards have been left in freezing conditions or next to scolding hot pipes.
An Independent Monitoring Board published on 7 March reveals the shocking conditions inside the prison between 2021 and 2022.
There had been six deaths in custody during the reported year. Three of the deaths were described as self-inflicted while the remaining deaths were due to natural causes.
There was also a concerning increase in the number of self-harm incidents. The independent board believed this could have been caused by a stricter Covid regime and by some prisoners repeatedly self-harming.
Self-harm spiked between October and March, coinciding in part with the reintroduction of stricter Covid-19 restrictions, before settling back down.
In one year, there were 408 self-harm incidents involving 243 prisoners, an increase from 282 incidents and 200 prisoners the year before. There were on average 34 self-harm incidents per month, according to the report.
The prison had also seen a sharp increase in prisoners fighting. There were 294 recorded assaults, up from 258, the year before. Of these 201 incidents were prisoners fighting each other. There were 93 attacks on prison staff.
The report said, "In August and September there was a sharp increase in prisoner-on-prisoner violence: the number of perpetrators rose from 449 to 498 over the June – November quarter.
"Prisoner-on-staff assaults (including one serious assault) coincided with staffing shortages, cross-deployment of staff, and a higher number of prisoners being redirected from HMP Bedford.
"An unsettled period on E wing in November was attributed by the prison to a combination of factors including personalities on the wing (including staff) and gang and drug-related issues."
In the winter months, prisoners in the E wing were also left in freezing conditions. Reports in the D wing also complained about extreme cold.
But in other areas of the prison, inmates complained about scalding pipes and intolerable heat.
There were several water leaks throughout the year, both in residential units and in other parts of the prison. The report said that although some windows and showers had been fixed or replaced, Wormwood Scrubs had fragile infrastructure and it was struggling to arrange repairs.
To make matters worse mandatory drug testing at the prison was halted during the pandemic and it had not resumed by the end of the reported year.
Fake private legal correspondence was also being used to smuggle drugs into the prison. The use of faked private legal correspondence to smuggle in drugs impregnated into paper has also been a big challenge for the prison.
There was also an ongoing issue with cancellations of hospital appointments caused by a shortage of escorting officers, the report added.
Some prisoners are able to do some work while in prison and visit the gym but unemployed men can find themselves locked in their cells for 23 hours.
The library was also closed at the prison and inmates could only ask for books to be sent to their cells. The report added that education was seriously depleted and there had not been face-to-face teaching for a year.
To make matters worse prisoners were not always given clean clothing. The report described one case where a disabled prisoner was left stranded in the first night centre without a change of clothes for 14 days while the prison looked for ground-floor accommodation to meet his disability needs.
Prisoners also had such horrible food they were throwing it out of their cell windows. The independent report said there was a staggering amount of food waste.
It added that rubbish and debris had built up after being thrown out of windows. As a result, there were regular rat infestations.
The report said, "Food was described to board members as 'inedible', 'dreadful', 'diabolical', 'undercooked', 'unseasoned', 'swimming in oil/fat', 'stodgy' and 'the worst in any London prison', with one prisoner remarking that he wouldn't feed it to his dog.
"The system of delivering packaged meals to cell doors (a legacy of Covid-19) has continued adversely to affect food quality. With hot meals taking up to two hours to reach cell doors after leaving the kitchen, they were typically soggy and lukewarm at the point of distribution and consumption.
"Board members observed flimsy foil containers filled with, for example, grey potatoes or wizened and yellowish chicken with no sauce, and witnessed frozen oranges being served as pudding."
Prisoners also complained about having to eat food metres away from unscreened toilets.
Wormwood Scrubs was one of the only prisons not to return to normal plates when inspectors visited the prison. But prison staff said the decision to keep using the foil containers helped them to keep violence down.
Elsewhere in the prison isolated cells are regularly out of use because of dirty protests, deliberate damage or intentional flooding.
Three cells at Wormwood Scrubs are designed as anti-smash cells, and they are furnished in stainless steel, with everything fixed to the ground. The area is described as busy and challenging with cells often out of use.
The segregation unit has 18 cells and there are also two bare special cells, used only in exceptional circumstances. These had to be used once in the reported year for just 27 minutes.
There were 1,087 prisoners on May 31, 2022. Of those prisoners, 357 were foreign nationals. There were 91 young adult prisoners aged 18-21, 98 prisoners aged 50-59, 27 prisoners aged 60-69, and 11 prisoners aged 70 or over.
If you are struggling with mental health issues, the Samaritans free and confidential phoneline is available 24 hours a day throughout the year on 116123. People can also contact them by email at jo@samaritans.org or write to Freepost, SAMARITANS LETTERS.
Full report into Wormwood Scrubs can be found here.

Jacob Phillips - Local Democracy Reporter
March 9, 2023