Penny Flood reviews Nancy Harris' new psychological drama
Our New Girl at the Bush is a true kitchen sink drama as all the action takes place in a kitchen, but there's no looking back in anger here. This is a kitchen to die for owned by an aspirational young couple looking forward in frustration and fury.
Part of the have-it-all generation, their future is about to change with the arrival of a baby and they don't know how to cope. It's a sharply observed satire on modern living with some very strong dialogue.
The literary nods are more towards Ibsen's Dolls House and Denis Potter's Brimstone & Treacle, not John Osborne, as the arrival of a stranger into their comfortable home acts as the catalyst to open the wife's eyes to the reality of her situation, which enables her to take responsibility for her own future.
It's very funny in places, shocking in others with plenty of thought provoking and highly provocative drama to keep the action rolling along. At no time are we given any clues as to what's going to happen next.
With only four people in the cast the play needs powerful performances – and this is what it gets. There's the heavily pregnant Hazel (Kate Fleetwood), a successful lawyer turned failed olive-oil importer; her husband Richard (Mark Bazeley), a cosmetic surgeon-cum-do-gooder, far too pleased with himself, and their eight year old son Daniel (Jonathan Teale and Jude Willoughby) boisterous, out-of-control and self-destructive.
It's rounded off by Annie (Denise Gough) the country girl nanny from Sligo who arrives unannounced because Richard has forgotten to tell Hazel that he's booked her.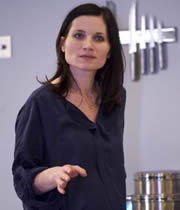 Hazel is stressed out and don't we know it as she vents her frustrations and fury on just about everything and everybody. And all the while the kitchen fills up with bottles of olive oil. If she's not screaming down her mobile at the Italian oil growers, she's bellowing at the other three, refusing to listen to reason because there is no reason in her world. She's changed her mind about the baby, she can't conform to the norms of modern motherhood and there's nothing she can do about it.
It doesn't help that the people next door seem to be having a party every night and a better time than Hazel. You can see why she and Richard were attracted to each other: they're both beautiful, clever, ambitious, selfish and earning a fortune.
Now reality is closing in, they're facing the truth that it takes more than looks and luxury to hold a marriage together and they're floundering - while drowning in olive oil.
Their discomfort is not helped by the ever present Annie who always manages to stay calm, organised and one step ahead of Hazel.
The opening of the play is one of the shocking moments that makes you hold your breath, so you're already unsettled when Annie arrives. This sets the tone for the first half – you can never shake off the feeling that something isn't quite right.
However, Hazel's lack of control begins to wear a bit thin as she yells and cries through the first half. The point about Hazel's mental state is made too often so the point becomes laboured as she goes on and on.
It's a long first half and could easily lose ten minutes at least. It's not surprising that the child is a bit disturbed with a mother like this as she doesn't like him very much. It's not that you don't have sympathy with her, you just want her to shut up for a little while.
There's a change of pace in the second half as the actions speeds up. leaving the audience on the edge of their seats until the end, which is slightly unbelievable and heavy handed on the symbolism. However, these are niggles. This is an enjoyable, if slightly harrowing production and it's well worth the trip to the Bush's new home in the old library to see it.
Our New Girl is on until February 11 at The Bush Theatre, 7 Uxbridge Road, W12 8LJ. To book tickets call the box office on 020 8743 5050 or visit the Bush Theatre

The Bush Theatre, which was named 2011 London Theatre of the Year in The Stage 100 Awards has a special membership scheme called Bush Local for people who live or work within two miles of the theatre, including these entire postcodes: W2; W3; W4; W6; W8; W9; W10; W11, W12; W14; SW5; SW6; SW7; SW13; NW10.
Members are entitled to a range of special offers and discounts, including £10 tickets to previews, 10% off tickets to other performances plus drinks and food in the new Cafe Bar and invitations to exclusive events. Find out more and apply to join at Bush Local.