Moving on from St Stephen and St Thomas to offer pastoral care at Rochester Prison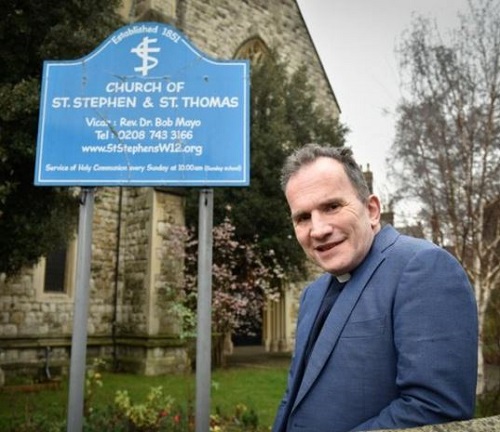 The Rev Bob Mayor, much loved vicar of St Stephen and St Thomas Church in Uxbridge Road, is leaving Shepherd's Bush to working at Rochester Prison, Kent, offering pastoral care to the young offenders, prison staff and visitors.
Bob, 57, who had also been the vicar of St Michael and St George in White City since 2005 said goodbye with a final service at St Stephen's on Sunday 3 February.
Now he and his wife Sylvie are off to face their next challenge. He says on his Vicar's Blog: "I will leave with Shepherd's Bush in my heart to carry on what the area does so well which is to draw people from the edges of society back into the centre.
" 70% of young offenders re-offend once they have left prison. I will come with a listening ear, a loving heart and a determined mind and try to help prisoners to understand that there are different ways of living out their future."
You can read Bob's final blogs, looking back on his time in W12 and forward to his new life on the church's website.
The church's congregation have paid tribute to Bob, saying: "Bob and Sylvie will take with them our very best wishes and love for the future. A mission to society's rejected and outcasts has long been close to Bob's heart and he will undoubtedly be appreciated in his new post. His time at St Stephen's has transformed the parish; he will be fondly remembered and sorely missed."
February 4, 2019