Plans launched for site which could become major fashion and media centre
Developer Stanhope has today launched plans to redevelop the Gateway Site at White City Place on Wood Lane - the buildings which look set become a major new fashion and media centre.
Earlier this year, it was reported that big names including Stella McCartney, Hugo Boss and online fashion website Net-a-Porter were in talks to take over office space in White City Place, after Victoria Beckham reportedly decided against moving in.
Proposals put forward by Stanhope and its funding partners Mitsui and AIMCo include the building of three new office buildings of varying size to the south of the 17 acre White City Place site, to be named Gateway West, Gateway Central and Gateway East.
The new buildings will be designed by Allies and Morrison, the architectural practice which designed most of the existing buildings on the former BBC Media Village site, which will also be refurbished.
Altogether the site will provide over one million square feet of office space and create 6,400 new jobs.
Gateway East will be the largest building on the site and will front onto the newly created Arrival Square and Wood Lane and will off both offices and shops by the year 2020.
Gateway Central will be a major new office building rising from three to ten storeys with shops, cafés and restaurants at ground level.
Gateway West, the smallest of the three proposed new buildings, will be a low rise structure of four storeys and will aim to attract smaller employers.
Stanhope says redevelopment of The Gateway Site will complement the proposed public realm improvements to North Avenue between the refurbished MediaWorks and WestWorks with new trees, raised gardens, lawns and seating, and the creation of a Central Square.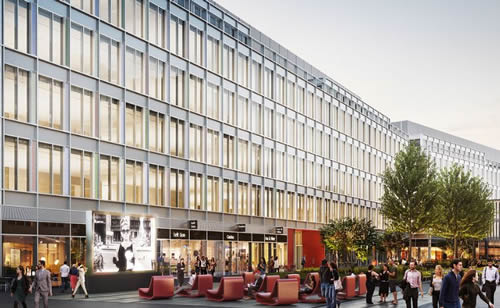 There will also be the introduction of a 'temporary landscape strategy' to include new retail and temporary uses such as food markets and pop-ups for the benefit of workers and local residents.
Stanhope will be holding a public exhibition on the plans on Tuesday 28 and Thursday 30 June from 5pm – 8pm at Wood Lane Community Centre, White City Close and 11am – 2pm on Saturday 2 July at the White City Community Centre.
These three new proposed buildings will be in addition to the ongoing refurbishment of the three existing buildings; MediaWorks and Garden House will both be available for occupation from Autumn 2016, and WestWorks, with improved facade and relocated entrance, will be available from Spring 2017.
The Media Village was sold by the BBC to Stanhope and Matsui last autumn for £87 million, following its sale of BBC Television Centre for £200 million. However, the BBC continues to lease the three original buildings.
Stella McCartney, whose fashion house is currently based opposite White City Place in a building which is due to be redeveloped this year, has reportedly been looking for around 30,000-40,000 sq ft in the complex.
Net-a-Porter, which is currently based in Westfield shopping centre, is said to be searching for two offices 40,000-60,000 sq ft and 30,000 sq ft while Hugo Boss, up till now based in Camden, is said to be looking for 20,000-30,000 sq ft.
June 29, 2016