Dedicated fan Stephen lives at Royal Star and Garter Home after being injured in Iraq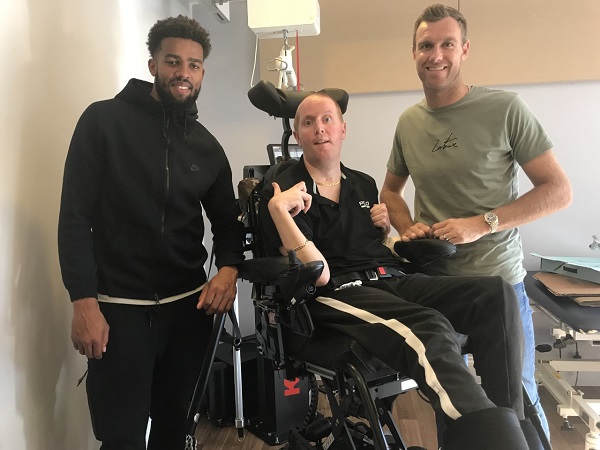 Two of Fulham's footballing stars have paid a surprise visit to disabled soldier who was injured in Iraq.
Fulham FC midfielder Kevin McDonald and defender Cyrus Christie dropped in on Tuesday, 17 September to meet die-hard Fulham fan Stephen Vause, 32, at The Royal Star & Garter Home in Surbiton.
The visit on was secretly organised by staff at the Home, who form close friendships with the residents and love to arrange treats and surprises for them.
Stephen was presented with a Fulham shirt signed by the squad, and a signed book featuring press cuttings from Fulham matches over the years. He was also promised two tickets to a match of his choice this season.
The players were also taken to the Physiotherapy room where Stephen regularly works out.
Stephen was just 19 and on his first tour in Iraq, serving with the 4th Battalion The Rifles, when he suffered brain injuries in a mortar explosion near Basra. The attack left him severely disabled.
The Royal Star & Garter Homes cares for ex-Servicemen and women and their partners living with disability or dementia. The Charity has been caring for Stephen since 2015.
Following the visit, Stephen said: "I had no idea they were going to turn up. I'm feeling very grateful. It was amazing."
Scotland international Kevin spoke of his admiration for Stephen and the Home, saying: "nEvery day we get a lot of kicks that cause a bit of pain, but then we meet guys who put their lives on the line for their country. It puts everything into perspective to meet people like this. When you consider what Stephen's been through it's an honour to meet him."
Irish internationall Cyrus, whose brother was in the Army for ten years and served in Afghanistan said it was 'humbling' to meet Stephen. He added: "He's a true inspiration."
You can find out more about The Royal Star and Garter Homes here. To support support Stephen and other veterans, you can make a donation here or on the JustGiving page.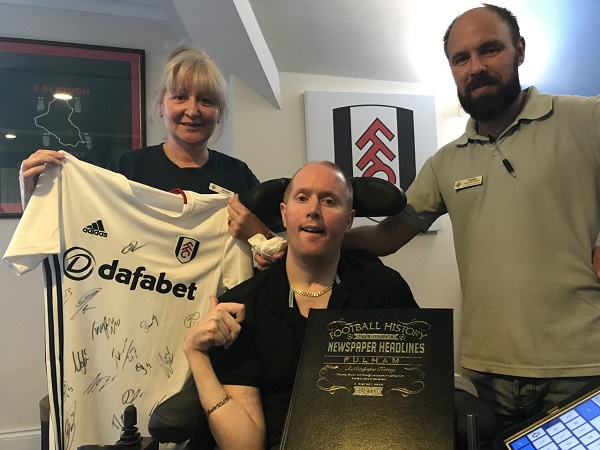 Stephen with Physio Assistant Karen Whymark, carer Valdas Venclovas and his special gifts
September 20, 2019