H&F Council told by neighbours to 'get a grip on this long-standing problem'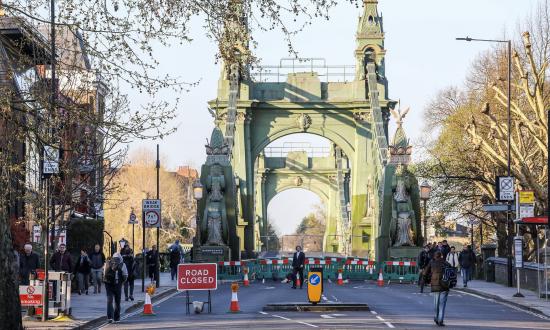 Hammersmith and Fulham Council announced the closure last Wednesday, 10 April due to 'safety concerns' after sensors discovered deficiencies in the 132-year-old structure, which is normally used by 20,000 vehicles per day.
In a statement, the council said: "Our weekly safety checks have revealed critical faults and we have no choice but to shut the bridge. We're sorry we couldn't give you more warning."

However, that has not satisfied Richmond Council, whose residents live south of the bridge. The council say they were given just minutes' notice before it was closed indefinitely.
The Lib Dem controlled Council's cabinet member for transport, Councillor Alexander Ehmann, has now written to his counterpart at Hammersmith and Fulham urging him to work more closely with Richmond in the future. In his letter, he lamented how little time he had been given to plan for the disruption, which he suggested could last years.
Speaking after sending the letter, Cllr Ehmann said: "It is disappointing that, despite efforts of Richmond Council officers to impress upon Hammersmith and Fulham Council the impact of any closure of Hammersmith Bridge on our residents, we were given only minutes' notice of its indefinite closure."
He said it was 'no secret' that the bridge required urgent work, and urged Hammersmith and Fulham to engage 'much more extensively' with Richmond to find a long-term solution.
Early last year, Richmond Council offered to take control of the bridge ahead of major planned refurbishment which was then planned for late 2018. You can read about this here.
Tory controlled Wandsworth Council have also been critical, with Council Leader Ravi Govindia saying: "This is bad news for the travelling public in south west London and in particular for our residents living near to Putney and Wandsworth bridges. The problems with this bridge are very well known and have led to numerous closures over the past decade.
"It is not an issue that has suddenly emerged completely out of the blue so Londoners will rightly ask why Hammersmith and Fulham Council has allowed its condition to deteriorate to such an extent that it has to be closed without warning.
"Neighbouring communities should not be left to suffer from their failure to get a grip on this long-standing problem. Hammersmith & Fulham has a responsibility to get the bridge repaired and reopened. They need to get people in this part of the capital back on the move."
A spokeswoman for Hammersmith and Fulham Council responded: "Richmond's officers have failed to turn up to meetings to discuss the potential for closures on several occasions, when all other stakeholders were present.
" So we've also held meetings in Richmond's town hall to keep everyone up to date on the refurbishment programme and on potential for last minute closures.
" Unfortunately, the damage found was critical, so more notice was not possible. But Richmond officers were notified within half an hour – they even emailed to thank us for the swift response."
As well as safety concerns, the closure has brought to a head problems over the funding of long planned major repairs to the Grade II listed bridge, which H&F Council say would cost at least £40 million and would mean closure for 'many months'.
Though the council own the bridge, the cost was to be met by Transport for London. However, TfL now says that due to budget cuts, it can no longer fund the project, and this has led critics to accuse Sadiq Khan, who as London Mayor appoints the board which runs TfL, of 'mismanagement'.
Announcing the closure, H&F Council said: "The cost of repairing Hammersmith Bridge has risen to at least £40million. We are sympathetic to TfL's funding problems. TfL has suffered an £800 million cut to its budget from central government and has had to pay for the refurbishment of Albert Bridge and Putney Bridge in recent years.
"We are working with the London Mayor and TfL to agree a way forward and call on government to provide the necessary funding to maintain this vital piece of London's infrastructure and this beautiful feature of Britain's engineering heritage."

A spokesperson for the Mayor of London responded, saying: "'The council owns the bridge and is responsible for its maintenance and refurbishment.
"However, TfL are looking at what they can do to assist the council in the short term to get the bridge back open, while helping them identify the money in the long term to fully upgrade the bridge.
"Refurbishment work would require substantial further design work and funding, at the same time as central government has decimated council budgets and removed TfL's operational grant for day-to-day running costs."
However, Tony Devenish, the London Assembly Member for West Central, which includes Hammersmith and Fulham, said: "The state of Hammersmith Bridge has been a perennial issue which I have raised time after time with the Mayor over many months.
"It is completely unacceptable that this sorry saga has ended with indefinite closure; this will come as a real blow to the countless residents who desperately need this link to cross the river.
"Make no mistake, these failures come directly as a result of Sadiq Khan's mismanagement of the transport budget and reckless policies, such as his expensive and ineffective partial fares freeze."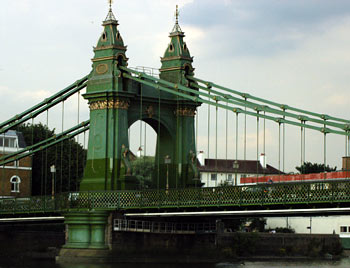 Local MPs have also become involved in the growing war of words, with Hammersmith's Andy Slaughter urging the government to foot the bill to repair Hammersmith Bridge, claiming Transport for London lacks the funding. He said the Department for Transport should 'underwrite' the cost, which could be 'tens of millions'.
In a letter to Transport Secretary Chris Grayling, he wrote: " Because of the withdrawal of central government funding for TfL, which amounted to more than £700 million a year, it is no longer feasible for TfL to pay for such works out of its operating budget.
"I am therefore writing to ask what your department, alone or with the cooperation of the Department of Housing, Communities and Local Government, intends to do to ensure that the repair works are properly and promptly funded."
Chelsea and Fulham MP Greg Hands declared he was "disappointed but not shocked" by the council's decision, adding: " Hammersmith and Fulham Council have typically, as they do on many issues, failed to communicate effectively with local people. H&F have been known to cancel stakeholder meetings at short notice and without explanation. They have a poor track-record of putting off essential works to infrastructure, which everyone else but them seem to recognise are in a dire state.
"They are now trying to hide their incompetence on the issue behind the vague guise of 'Government cuts', which is simply not credible, given their record Council tax rise this year and that, last year, they paid their Chief Executive the highest salary out of 32 London Boroughs.

" Yet, given their intransigence, I have sought to escalate this to Government Ministers at the Department for Transport with the hope that they can intervene and somewhat make up for the Council's shortcomings on local infrastructure."
You can read his letter to Chris Grayling in his latest newsletter.
The MP has also launched a petition calling on H&F Council to repair and reopen the bridge as a matter of urgency.
On the subject of funding, a DfT spokesperson said: "The council will receive nearly £160 million this year to deliver services and look after key infrastructure as the local highway authority.
"In addition, we are providing Transport for London with £11 billion between 2015 and 2021 to invest in key infrastructure projects."
TfL meanwhile is offering comprehensive advice to drivers and local bus users here.
The bridge remains open to pedestrians and cyclists.
Written with contributions from Kate Oglesby, Owen Sheppard and Calum Rutter - Local Democracy Reporters

April 17, 2019