Only four per cent of monuments in the capital are to a named female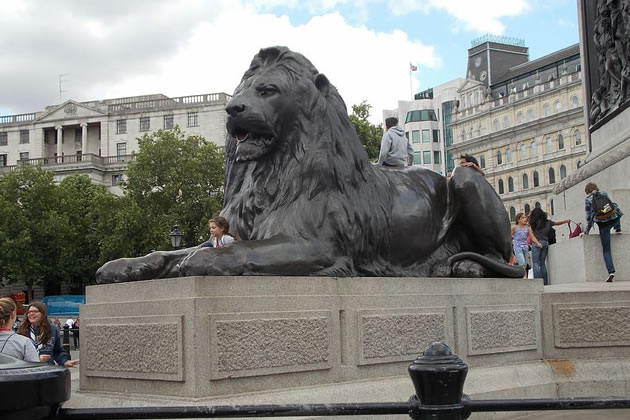 One of the lions in Trafalgar Square. Picture: PXFuel
A "landmark" new study has found that there are more statues of animals in London than there are of named women.
The research found that, out of around 1,500 monuments in the capital, only four per cent were dedicated to named women. Out of the almost 50 sculptures of women, just three were dedicated to women of colour.
In contrast the research found eight per cent of sculptures – almost 100 – were animals.
The first of its kind audit of all public sculptures and monuments in London was conducted by Art UK and part funded by City Hall.
Mayor of London Sadiq Khan has said that the research provides further evidence of the "urgent need" to improve diversity in London's public spaces.
Following the findings of the audit, Sadiq Khan announced that his "statue commission" would begin its first phase of work.
The Commission for Diversity in the Public Realm was announced last year after the toppling of a statue of slave trader Edward Colston in Bristol sparked a national debate about how Britain's history is remembered.
But the Mayor of London has stressed that the commission will not be presiding over the removal of statues and that its aim is to "enrich and add to the current public realm" to celebrate London's diverse history.
It may, however, lead to "new ideas" being considered for some of the capital's street names.
On Thursday, Sadiq Khan announced the £1 million "Untold Stories" fund which will be overseen by the commission and will allow community-led organisations to bid for funding to refresh their public spaces.
Grants of up to £25,000 will be given to successful applicants to create murals, street art and other public displays to celebrate diverse figures from London's history.
Sadiq Khan said,"London's diversity is its greatest strength but for far too long our capital's statues, street names and buildings have only shown a limited perspective on our city's complex history.
"I'm determined to do everything I can to ensure our public realm presents a more complete picture of everyone who has made London the incredible city it is today.
"That's why I've launched a £1million fund to help the diverse communities who know our city best lead the way in celebrating our capital's Untold Stories."
Joe Talora - Local Democracy Reporter
October 22, 2021