Anti-social behaviour had made it a no-go zone for local people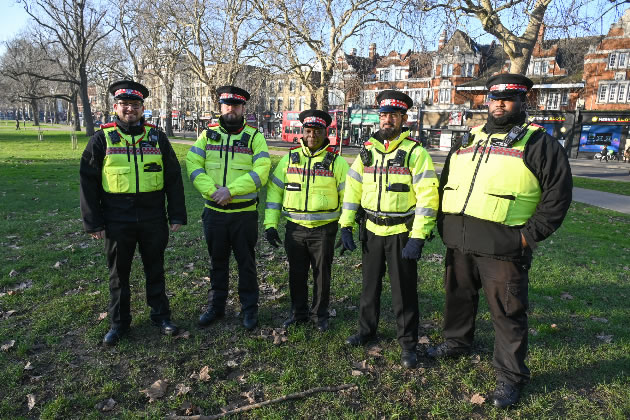 A few members of Hammersmith & Fulham's LET team on Shepherd's Bush Green. Picture: H&F Council
February 27, 2023
A brave group of council officers have taken on the monumental task of turning Shepherd's Bush Green into a haven for locals. In recent months, the Green has been described a no-go zone as drug users, gangs, and drunks moved in and caused havoc.
Now one team of dedicated council staff want to change that and make it once again a space for everyone to enjoy. I was lucky enough to join Hammersmith and Fulham's (H&F) Law Enforcement Team on a patrol of the Green and what I saw stunned me.
This team of unlikely heroes – of which there are 72 in total – patrol the streets of Shepherd's Bush and other troubled hotspots 24/7 and act as "the eyes and ears" of the council. They may not be able to detain people up to no good, but the intelligence they provide in form of pictures, witness accounts and more, work miracles for local Met Police teams who later piece together the information to carry out an investigation.
Their impact on their area was undeniable. Within a few steps of taking off on our patrol, we were stopped by a Superdrug shop assistant who informed the team that a man was threatening staff and tried to take off with a variety of goods. Right in front of my eyes, the team split up. Two chased the man into nearby Shepherd's Bush underground station while another hung around the shop. He got away but the team were able to grab a snapshot of his face – evidence they'll pass onto the Met.
"We wear bright yellow. That was an intentional part of the design. We want to be seen and to be a deterrent to any anti-social behaviour," lead LET officer Neil Morrison told me. "When there's someone doing something they shouldn't be, half the time you approach them, they're up and they've moved off before we even get to them. For us, we've done our role, we've stopped that issue or incident."
But the team does a lot more. They provide the council with real-time information on fly-tipping incidents as well as issues with local infrastructure like faulty footpaths or damaged boulders. But their biggest task is cracking down on anti-social behaviour.
As we scour the Green, we find a crack pipe, empty pill packets, lighters tucked neatly near a playground. Neil says that sometimes, drug users get so high they leave their kit full of drugs right there in the park and wander off. Others use it for drug and weapon deals with instances of knives being found strapped under the roundabout and slide in the playpark.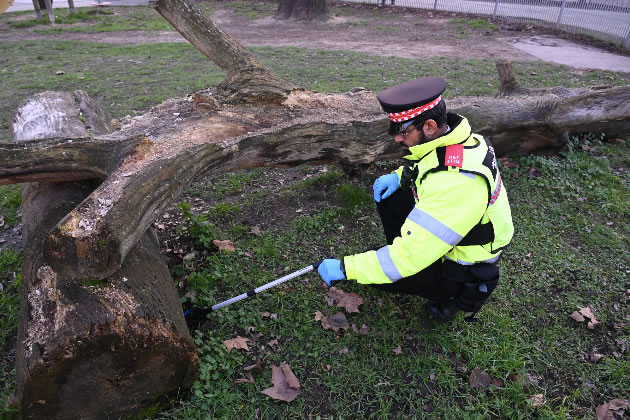 A H&F LET officer searching a log on Shepherd's Bush Green on Thursday, Feb 9. Picture: H&F Council
Neil said, "Some weapons are hidden under roundabouts, under chairs or slides or people stash their drugs under the caps along fencing. There were also reports of people finding things in the sand. This area was closed off by police for a deep clean because of so much drug paraphernalia."
The former project manager turned enforcement officer said it wasn't uncommon for his team to find all sorts of paraphernalia in the park. He said, "Blood spots are also another indicator that someone is using.
"The better relationships we have with the residents, the easier it is for us to help them. We often say that if nothing gets reported then it's very hard for us to make things. You might not think it, but we also look for empty bottles or empty crisp packets. That usually indicates someone's been loitering around."
Since the team formed in April 2021, they conducted some 85,000 patrols in the borough and launched 5,000 investigations following tip-offs from residents. In troubled spots like the Green, they've ramped up patrols to three a day, warding off individuals who are up to no good. In the Green, the team realised that by removing a number of tables and chairs, they were able to stop gangs and drunks from congregating and scaring off locals.
Cleaning up the Green is personal for Neil. He said, "It 100 percent annoys me because there are people in particular in this area that don't have access to an open space and they come here to enjoy some but they can't. The council is trying to deal with it because we want people enjoying our green spaces.
"In a housing block, anything can be hidden"
We move on to nearby Charecroft Estate. Since the team is an amalgamation of former housing wardens, they're also tasked with looking through suspect estates. "It was the amalgamation into one LET officer with the idea being that we can get better knowledge of a single patch and then we can deal with all three or four issues in one patrol instead of having to send three or four team," Neil said as we made our way into Roseford Court tower block.
Neil says the estate is a hot spot for rough sleepers who hide behind bins and make shelter for the night, and it's not long till we find evidence of a mouldy quilt and pillow stashed in the fire exit in the garage. Neil removes them.
He says rough sleepers tend to hide in the upper levels of a tower block and suspects this could be because fewer people are likely to spot them there.
As we go outside, Neil explains what his team usually finds in estates like these. He said, "In a housing block, anything can be hidden. We collect things from flower beds and shared gardens. Sometimes our officers don't find anything at all but that doesn't mean there won't be anything there in the future."
The LET doesn't work alone. They have charities and support services who help train them and provide vital information. Neil said, "They get in touch and let us know they've had an X amount of cases of people going into the hospital because they took a bad bit of heroin. They let us know where they're happening so we can keep an eye out".
We make our way to the top of the tower for one final sweep. As we walk through, we catch of whiff of someone smoking weed. We approach the staircase and make our way down one level where we spot two youngsters rolling joints and smoking. Their kit is strewn along the staircase.
They're confused and a little shocked but are told to move on. Their photos are taken and a report will be written up. If the kids live in the block, their parents will be called in for a chat by the housing warden and social services could be involved.
For H&F's LET team, this is another day done and dusted. But something Neil told me earlier in the patrol stuck with me. He said the team is often seen as "not worth people's while" because they're not police nor share the same powers to detain people.
"What people don't realise is that we have such a close working relationship with the Met and that if something doesn't get done in that instant, it doesn't mean something won't get done."
He said cases like Wayne Couzens and David Carrick have made his job harder as trust between residents and the team frays. He had one word of advice, "Come and speak to us in person. LET officers are more than happy to arrange meetings at a location or somewhere else. We're more than happy to have that conversation with you because the more information we can get, the more we can make a positive difference."
H&F Leader Cllr Stephen Cowan said, "It is not usually a council's job to fight crime, in Hammersmith & Fulham we have taken the view that keeping people safe is always our first priority.
"To support the police, we have added a 72-strong H&F Law Enforcement Team. They patrol our streets, collect vital intelligence, initiate actions such as partial closure orders when crime hotspots emerge, and crack down on crime. All our Law Enforcement Team officers wear mobile cameras linked into H&F's CCTV network – the most extensive in Britain.
"With police recorded crimes in England and Wales exceeding pre-coronavirus pandemic levels, we will continue to invest more and innovate new ways to tackle criminals, reduce the causes of crime and keep people safe."
Adrian Zorzut - Local Democracy Reporter