Developers Apply to Build 21 Storey Tower at White City Place
---
One of three new Gateway buildings which could create 8,000 jobs
Stanhope Plc, Mitsui Fudosan UK and AIMCo, the companies redeveloping White City Place on the site of the former BBC Media Village in Wood Lane have submitted planning applications to redevelop three new buildings - including a 21 storey tower.
The buildings, on the 17-acre Gateway Site at White City Place, are to be named Gateway West, Gateway Central and the towering Gateway East.

The companies say together, these Gateway buildings will create 8,000 new jobs.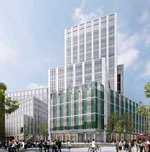 • Gateway East, pictured here, will be 21 storeys and will front onto the newly created Arrival Square and Wood Lane. The building will provide 680,000 sq ft of office space on the upper floors and the ground floor will provide 22,500 sq ft of retail and restaurant floor space.

• Gateway Central will provide 360,000 sq ft of employment floor space with cafés and restaurants at ground level and will vary in height from four to 12 storeys.

• Gateway West will be a low-rise three and four storey employment building of 30,000 sq ft.

The developers say the Gateway development will complete White City Place as the major business hub in west London. The project will include extensive public realm improvements which will link in with the landscaping works currently being implemented at White City Place including North Avenue with new trees, raised gardens, lawns and seating and the creation of a Central Square.

The three new proposed buildings will be in addition to the six existing buildings at White City Place: MediaWorks and Garden House, which have already been refurbished and are being let. As we reported last month, Yoox Net-a-Porter will occupy 70,000sq ft in MediaWorks from spring 2017.
Neighbouring WestWorks will provide a further 300,000 sq ft and will be available from mid 2017 while the remaining three buildings, Broadcast Centre, Energy Centre and Lighthouse are pre-let to the BBC and house more than 3,000 BBC staff.

By late 2017, Stanhope will be completing new offices, homes and independent restaurants at Television Centre, including a new Soho House members' club, hotel, rooftop pool and bar, House Gym and spa and three refurbished studios.
Television Centre already includes the HQ of BBC Worldwide.
White City Place is located opposite the new Imperial College White City Campus, which is co-locating research, entrepreneurs, established companies and global corporations on a scale unprecedented in London.

White City Place is at the heart of an £8 billion 15 year regeneration of the wider White City area, which will form a new hub of activity, creativity and academia in west London.
This thriving neighbourhood will see the arrival of new restaurants, 2,500 new homes, more than two million square feet of office space and 20,000 new jobs.
A new John Lewis will open in 2018 in an expanded Westfield which will boast more than 420 stores, and there will be 30 acres of public open space.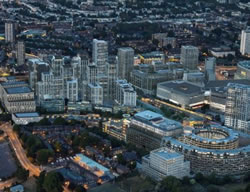 November 14, 2016