But falling prices make north of W12 a magnet for buyers on a budget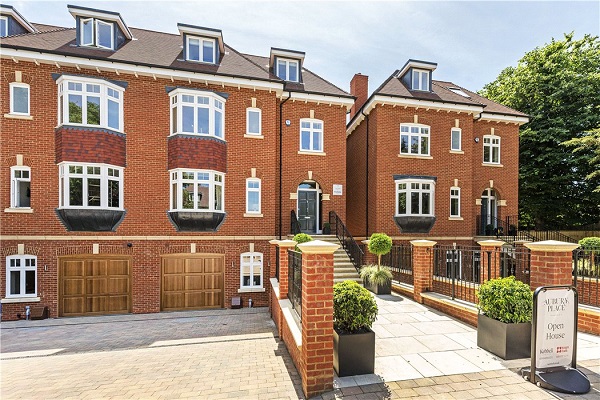 Aubury Place in Emlyn Road
The long shadow of Brexit appears to be looming over the Shepherd's Bush property market, with the latest figures from the Land Registry showing very low levels of sales and prices down across the board.
After a hopeful start to 2019, with the overall average price in W12 rising to £895,830, it plummeted to just £709,894 during the second quarter.
This is of course very bad news for local estate agents, but it is a welcome development buyers on a budget, as the north of Shepherd's Bush is now by far the most affordable area in our borough.
Between April and June, both houses and flats were sold at prices that were unheard of just a year ago - houses under £500,000 and flats under £200,000.
At the top end of the market very few transactions were recorded. In the previous three months, a number of family homes changed hands priced above £2million, including W12's second most expensive property, a six bedroom house in Palgrave Road priced £3,650,000.
This time, there were only two houses priced above the two million mark, a terraced house in St Stephen's Avenue which sold for £2,570,000 and a newly built semi-detached house in the exclusive Aubury Place gated development in Emlyn Road, pictures above, which fetched £2,450,000.
And while there were a handful priced between £1 and £2 million, the majority of terraced houses were sold for well under £1,000,000, including two in Erconwald Street in Old Oak priced £440,00 and £595,000 and two in neighbouring Wulfstan Street which fetched £460,000 and £495,000.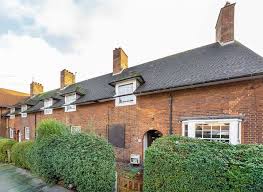 Erconwald Street
Flat sales in spring followed the same pattern, with just one new flat, priced £655,000 changing hands at the previously busy Television Centre, and the majority in the traditional market selling for well under £400,000. They included one flat in Fraser Court in Heathstan Road, south of Du Cane Road, sold for £134,000 and another in Balmoral Mews priced £245,000.
Estate agent Savills says these price 'corrections' were initially triggered by new stamp duty rates and affordability pressures, and since then, prices have slowly corrected as Brexit dampened confidence in the market.
Savills adds: "Looking forward, we are forecasting a relatively subdued market across prime London while Brexit negotiations continue and we then enter a transition period. However, low levels of available stock should help to prevent any further significant price falls.
"Once uncertainty clears, there is the potential for pent-up demand from those currently sitting on the fence to lead to more activity, but this may not necessarily translate into price increases straight away.
"The fundamental reasons that buyers are drawn to prime West London still remain: the region has good schools, an abundance of green spaces, and plenty of connectivity to central London."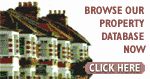 According to the Nationwide House Price Index the average sale price in London was £465,722 down by 3.8% in the second quarter compared to the previous three months. Over the last year prices are down by 0.7% This is the eighth consecutive quarterly decline for London in a row. Moreover, prices in the capital are still only around 5% below the all-time highs recorded on Q1 2017 and c50% above their 2007 levels (by comparison, UK prices are only around 17% higher over the same period).
For the UK as a whole the average sale price was up by 0.4% over the last year to £215,910 with Northern Ireland seeing the strongest performance.
Commenting on the figures, Robert Gardner, Nationwide's Chief Economist, said, "Survey data suggests that new buyer enquiries and consumer confidence have remained subdued in recent months. Nevertheless, indicators of housing market activity, such as the number of mortgages approved for house purchase, have remained broadly stable.
"Housing market trends are likely to continue to mirror developments in the broader economy. While healthy labour market conditions and low borrowing costs will provide underlying support, uncertainty is likely to continue to act as a drag on sentiment and activity, with price growth and transaction levels remaining close to current levels over the coming months."
The RICS UK Residential Market Survey for the second quarter concluded, "Although anecdotal commentary from respondents remains generally a little downbeat, contributors reported a rise in buyer demand, that new instructions have held steady, and that newly agreed sales also edged into positive territory for the first time in twenty-eight months."
The numbers below are subject to revision as is it usual that some properties are added late to the Land Registry's database.
Shepherd's Bush Property Prices - (April - June 2019)
Area
Semi-
Det
Sales
Terraced
Sales
Flats/
Mais
Sales
Overall Ave
Total Sales
W12 0
0
0
528500
6
367000
2
488125
8
W12 7
0
0
0
0
453400
5
453400
5
W12 8
0
0
1634975
2
585833
6
848119
8
W12 9
2450000
1
890393
7
559500
7
839950
15
Total
2450000
1
844913
15
521625
20
709894
36
Change over quarter
-5.9%
-80.0%
-44.0%
25.0%
0.7%
-45.9%
-23.8%
-33.3%
Change over year
293.6%
-50.0%
-22.7%
-34.8%
-38.0%
-81.8%
-19.4%
-73.3%
Change over three years
42.0%
-66.7%
5.6%
0.0%
-10.7%
-54.5%
2.6%
-41.9%
Change over five years
113.0%
0.0%
-6.6%
-34.8%
29.0%
-83.5%
45.2%
-75.2%
Change over ten years
757.0%
-75.0%
82.0%
25.0%
112.2%
-23.1%
127.5%
-14.3%
Source: Land Registry
August 19, 2019