Troubadour's owners apply for licence to run venue being constructed on Wood Lane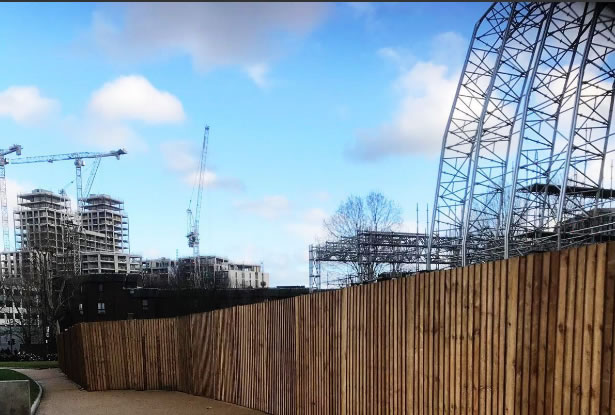 White City's new pop-up Troubadour Theatre is now under construction in front of White City Place at the junction of Wood Lane and South Africa Road.
The frame of the 'Meccano style' theatre is now in place, as you can see in the photo tweeted by @entertee and the company behind 1,200 seater venue have applied to Hammersmith & Fulham Council for a premises licence.
The application, which is open for comments, comes from Troubadour Theatres, the award-winning team behind the successful King's Cross Theatre, home to the Olivier-award winning The Railway Children and David Bowie's Lazarus.
It seeks permission for: The provision of
plays; the provision of films; the provision of indoor sporting events; the provision of boxing or wrestling entertainments; the provision of live music; the provision of recorded music; the provision of performance of dance; the provision of anything of a similar description to live music, recorded music or dance; Indoors.
The company aims for the theatre to be open on Sunday to Thursday 8am till 11.30pm, and on Friday to Saturday 8am till midnight.

As well as the fully flexible theatre there will be an 800 seat fully flexible multi-purpose venue.
There will be an interconnecting foyer space complete with a large onsite bar, and the theatre will showcase a programme of large-scale theatrical shows, film screenings, exhibitions, concerts and international events.
When announcing the new theatre, Oliver Roys and Tristan Baker of Troubadour Theatres said: "White City Place, with Television Centre as its nearest neighbour, sits within an area that is synonymous with entertainment, storytelling and the diversity of British culture for years. It is only natural to build a theatre, another home for the imagination, alongside it.
"Troubadour White City Theatre will be designed to meet the needs of modern audiences: comfortable seating, generous toilet facilities, increased leg room and a spacious and welcoming bar."
David Camp, chief executive of White City Place developer Stanhope said: "The theatre will be a cultural hub for White City and the wider area, located within the newest and most exciting district."
Although the structure is officially temporary, the theatre is expected to be in place on Wood Lane for at last three years.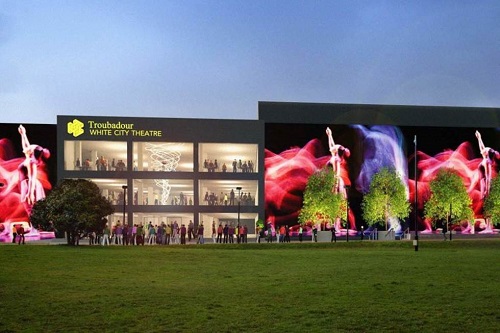 Watch this space for more details of the new venue's launch date and what you can expect to see.
April 1, 2019