TV Centre and White City Place light up to pay tribute to emergency services
WestWorks bathed in blue light
Wood Lane's most iconic buildings, Television Centre and White City Place have turned blue to honour the people caring for us during the coronavirus outbreak.
Both the WestWorks building in White City Place, pictured above, and the iconic façade of Television Centre, the former home of the BBC are being bathed in a bright blue light, from dusk until dawn to pay tribute to the NHS and emergency services.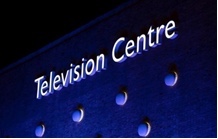 The buildings' developers Stanhope, Mitsui Fudosan and Aimco say the illuminations will remain for the foreseeable future and add vibrancy to the neighbourhood when local residents 'Clap for our Carers' from their doorsteps, balconies and windows.

The developers say this is one of a number of a number of intiatives being rolled out to show their support for the fight against Covid-19.

This weekend they donated 1,000 Easter Eggs to the
dedicated doctors, nurses and support staff, at local Imperial College Healthcare NHS Trust hospitals, Hammersmith and Charing Cross, along with 200 chocolate eggs to pupils with severe learning difficulties at Jack Tizard School in nearby South Africa Road in White City.
White City Place has also launched a new 'community' channel WCPConnect to provide regular, programmed content for White City Place's office, retail and restaurant occupiers and tenants during the UK's Covid-19 lockdown period.
The aim of WCPConnect is to bring a consistent and familiar programme of events that the community usually would have access to on campus, virtually to their living rooms and home offices.
The free daily content created for WCPConnect, will be available to stream live or on catch-up via YouTube and will also be accessible to the wider public.
A range of classes and workshops will be hosted by local teachers, residents, creatives and occupiers including morning meditation, lunchtime yoga; cookery tutorials; pub quiz-style fundraisers; live music; creative masterclasses and much more.
You can find out more abut the channel and regular events available to the public here.
Companies based at White City Place also making contributions to the battle against the virus.

Global healthcare company, Novartis, based in The WestWorks building is making available compounds from its libraries that are suitable for antiviral testing. On a global scale, the company has joined forces with R&D life sciences companies to aid and fund controlled clinical studies towards a cure for COVID-19. To date, it has donated 20,000 doses of medicine that will support approximately 2,000 patients in the study.

Additionally, technology pioneer Synthace, is offering its biology software for free, to teams that are working in the Labs to overcome the pandemic.
David Camp, Chief Executive of Stanhope says: "We're hugely proud of all the efforts our partners and community are making to help each other and most importantly those on the frontline of the pandemic.
"We appreciate this must be an unsettling time for all and the need for a sense of community to keep people connected and supported has become more important than ever. We hope that by lighting up our buildings blue and setting up a dedicated channel for our community we're able to provide some light-relief during these unprecedented times.
"Together with our partners, we are continuing to explore more ways that we can help towards the fight."
April 13, 2020