Disused arches to open next year as shops, galleries and community spaces
H&F Council has given the go ahead to Transport for London's plans to transform 31 railway arches near Wood Lane Tube station into shops, galleries and community spaces.
At present the designated arches beneath the Circle and Hammersmith & City tube lines - created in the 1860s - are inaccessible to the public, and are filled with rubble, rubbish and debris.
Work will be carried out in two phases, the first of which will see the 19 arches closest to the tube station open in early 2018 when the new John Lewis store at Westfield is set to open.
Of these 19 arches, 13 will be used for retailing, whilst the other six will provide new pedestrian routes, bicycle parking and storage facilities.
These will be followed by 12 arches closest to the A3320 West Cross Route which will be developed in line with adjacent residential developments due for completion in the early 2020s.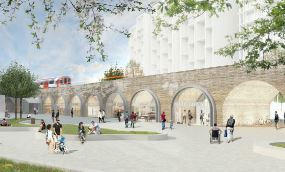 Artist's impression of the converted arches
In addition to bringing the units back into use, TfL plans to create new pedestrian passageways to improve connectivity in the neighbourhood and introduce new cycle parking.
Speaking last year, Graeme Craig, TfL Commercial Development Director, said: "Opening the arches at Wood Lane will truly transform the area – supporting ongoing regeneration with new locations for small and ndependent businesses and improving pedestrian connectivity.
"These are the first of a number of arches that we are looking to develop to help us raise vital revenue to reinvest in the transport network."
"It is important to ensure that there are opportunities for independent retailers, businesses and start-ups - as well as the major stores and big names in Westfield," added Cllr Andrew Jones, H&F Cabinet Member for Economic Development and Regeneration.
"Renovating and renting out the railway arches gives smaller companies a chance to benefit from the huge increase in footfall generated in Shepherds Bush in recent year."
March 16, 2017